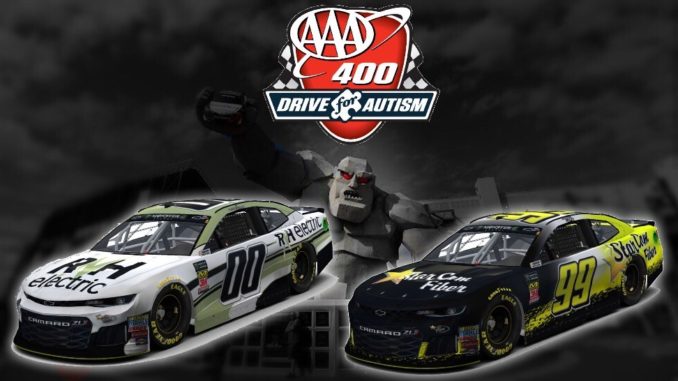 Salisbury, NC (5/1/2018)— StarCom Racing will field its second car, the Chevy Camaro 99, for the first time ever at the AAA Drive For Autism 400 on Sunday, May 6 at 2:00 PM ET. Driver Landon Cassill will be behind the wheel of SCR's 00 Chevy Camaro with new partner, but longtime friends, RNH Electric as the primary sponsor.
SCR Team Manager and former Daytona 500 Champion, Derrike Cope, will pilot the No. 99 Chevy Camaro, with SCR's parent company, StarCom Fiber, as the primary sponsor. "The partnership between RNH Electric and Starcom is an unshakable bond built on respect, loyalty and friendship.
The men who developed StarCom are winners and are capable of anything they set their minds to," said RNH Electric vice president Artie Macrae. "RNH has no doubt that the men of StarCom will be successful in their quest to build a quality and competitive NASCAR race team. RNH is behind StarCom in all their endeavors."
SCR looks forward to bringing back Landon Cassill and 2017 SCR Driver Derrike Cope at the Monster Mile. "I'm excited to be back in the car, especially at such a challenging place like Dover. It will be a race for survival, like always, and I'm anxious to see what kind of progress we can make on the car in practice, said 00 SCR Driver, Landon Cassill.
"Hard to believe we are this far into the season already! I am pleased with the progress that our team has made," said Derrike Cope. "I have been consumed with the Team Manager duties up to this point but am excited to get back into the StarCom Fiber 99 Chevrolet, and especially at Dover, one of my favorite tracks!"
For more information on StarCom Racing visit us at www.starcomracing.com or follow us on Facebook, Twitter & Instagram @StarComRacing.
About RNH Electric:
RNH Electric Co. leads the way in innovation by providing precise and creative solutions to electrical construction's most complex and technical challenges. From project concept to project close-out, the results-oriented RNH Team is there for its customers. Every member of the RNH Team provides the care and attention-to-detail necessary to ensure the success of each project.
About StarCom Racing:
StarCom Racing, a Monster Energy NASCAR Cup Series Team based in North Carolina that was launched in September 2017, hit the track twice before the season ended. StarCom Racing was formed by a collective group of seasoned NASCAR specialists, as well as successful business entrepreneurs from SCR's parent company, StarCom Fiber.
About StarCom Fiber:
StarCom Fiber, a telecommunications company based in New Jersey, specializes in cable placement, full-service engineering and CAD, network development, as well as fiber optic splicing and testing. Race fans can learn more about StarCom Fiber by visiting www.StarComFiber.com.