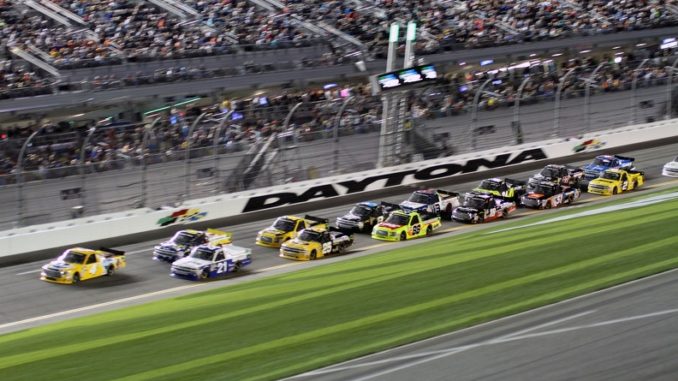 There seems to be a resurgence of life into the NASCAR Camping World Truck Series in 2018. Through the first five races of the season, the truck competitors are certainly bringing plenty of excitement and action.
Johnny Sauter won a wild and woolly race at Dover on Friday over Matt Crafton, Justin Haley, David Gilliland, and Harrison Burton. Coming down the backstretch with two laps to go, Sauter and Noah Gragson, driving the Safelite Auto Glass Toyota for Kyle Busch Motorsports, made contact several times before Gragson lost control and slammed into the wall.
Part of this resurgence is due to some rule changes in 2018 tightening up the competition, along with less Monster Energy NASCAR Cup competitors in the fields.
For the past 10+ years in the Truck Series as well as the Xfinity Series, there have been far too many Cup drivers in the fields. Only one race so far in 2018 has been won by a Cup regular through these first five; Kyle Busch's at Las Vegas Motor Speedway. In 2017 through the first five races, there were three won by Cup regulars. For the most part these competitors have been given their own chance to shine in 2018 and they have delivered.
The last lead change of each Truck race in 2018 came with:
9 to go at Daytona
2 to go at Atlanta
15 to go at Vegas
31 to go at Martinsville
12 to go at Dover (Sauter actually took over the lead with 2 laps to go in regulation)
Compare this to the last lead change in the Cup Series in 2018:
1 to go at Daytona
25 to go at Atlanta
37 to go at Las Vegas
22 to go at ISM
68 to go at Auto Club
114 to go at Martinsville
30 to go at Texas
6 to go at Bristol
11 to go at Richmond
42 to go at Talladega
62 to go at Dover
Through five CWTS races the last lead change came with under 15 laps to go in four of the five, with the largest gap of last lead change being 31 laps. In comparison, the last lead change in the Cup Series has happened only three times out of nine events with under 15 laps to go, with the largest gap of last lead change being 114 laps.
Truck competitors have a lot of momentum and they will try to capitalize on that as they race the next two weekends, at Kansas on May 11th, and Charlotte on May 18th.