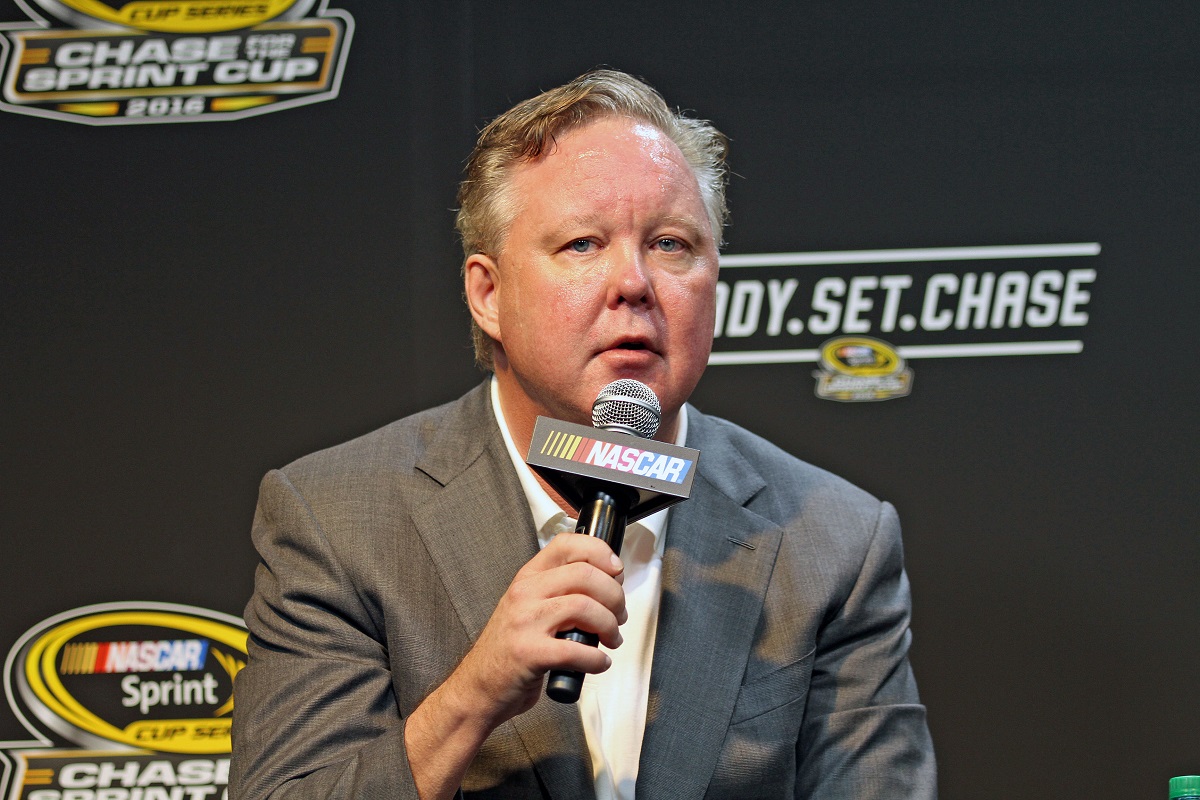 The news has been trickling out since early February that NASCAR may in fact be for sale. Despite denying those reports publicly, it appears there are some back-channel efforts in play to at least gauge the interest of potential buyers.
Today's burning question is, what if NASCAR does in fact sell?
First of all, I think we need to identify the type of possible sale that is taking place. Would someone just buy the sanctioning body or would the tracks be bundled into the deal? I believe that it will be much more lucrative for an investor to buy the series and the tracks in one fell swoop.
Obviously, International Speedway Corporation, which is controlled by the France family, would be a key piece in the puzzle one would think. With ISC tracks hosting 19 of the 36 Monster Energy NASCAR Cup Series races per year, it's a no brainer for the ISC tracks to be part of the package.
The wildcard at play would be the tracks owned and operated by Speedway Motorsports, Inc. Those tracks – Atlanta, Bristol, Charlotte, Kentucky, Las Vegas, New Hampshire, Sonoma, and Texas make up the bulk of the remainder of the NASCAR schedule. Would SMI entertain selling their tracks as part of a wholesale sale of NASCAR?
If so, that would only leave Dover International Speedway (owned by Dover Motorsports Incorporated), Indianapolis Motor Speedway (owned by Hulman and Co.), and Pocono Raceway (owned by Mattco Inc.) as the only other tracks on the MENCS circuit. I'd say it's pretty safe to say that Indianapolis Motor Speedway wouldn't be selling out, but would Dover Motorsports Incorporated and Mattco Incorporated be inclined to sell their two Cup series tracks if the deal were lucrative enough? There's an old saying that mostly holds true, 'everybody's got a price."
Even if those tracks were to hold out it wouldn't be hard for NASCAR to plug in some other tracks in their place. If the new owners were to acquire the ISC/SMI tracks then Atlanta, Auto Club, Chicago, Darlington, Kentucky, New Hampshire, Sonoma, or Watkins Glen could all have a second race added.
Assuming that NASCAR were to be able to put this type of deal into place for a new ownership group it would be a very lucrative deal. A couple of years ago Liberty Media purchased Formula One for a combined $8 billion dollars between equity and assumed debt, and they didn't even get the tracks.
I actually think that a sale of NASCAR, to the right investors, could actually be a good thing. If the new owners gained control of the series as well as the majority of the tracks, they would have total freedom to do whatever they want as far as the races are concerned. Perhaps they'd want to shakeup the schedule and change the order of races. Maybe they'd want to give some tracks two races per year every other year. For example, one year they may run Atlanta twice and Kentucky once but the following year they may run Kentucky twice and Atlanta once. The possibilities would be wide open if NASCAR actually owned all of the tracks on the schedule.
What about broadcasting rights? Currently, the first half of the MENCS schedule airs on Fox and affiliates and the second half of the schedule airs on NBC and affiliates. Starting a NASCAR Network, similar to what Vince McMahon has done with his World Wrestling Entertainment, may be a smart play. If they were to start their own streaming network service, NASCAR could charge a flat amount per month for their content, which would be in addition to the current broadcasting setup. Imagine a channel on race day where you could control your own coverage of the race and switch camera feeds and announcer feeds on the fly. You could have an in-car camera for every driver with team audio piped in.
NASCAR's recent announcement of purchasing the ARCA Series could all be part of this puzzle. In effect, NASCAR has bought the only professional touring stock car series that could be viewed as a potential competitor.
People are afraid of change and I'm sure there will be plenty of people who think the sky is falling if this news does turn out to be true. However, I am on the side of I'd like to see where this could lead. It reminds me of a scene from the O' Brother Where Art Thou movie. The preacher is baptizing people in the water and Everett, Pete, and Delmar are looking on cautiously. Then all of a sudden Delmar takes off into the water and is baptized. He says, "Come on in boys the water is fine." I'll be Delmar and jump in with both feet and hope the water is indeed fine if NASCAR does sell.
Do you think a sale of NASCAR will be a good or bad thing for the sport? Let us know what you think!
**The opinions expressed on this site are not necessarily those of the publisher, management or staff. All comments other than website related problems need to be directed to the author. (c)OnPitRoad.com. **
[socialpoll id="2501654″]