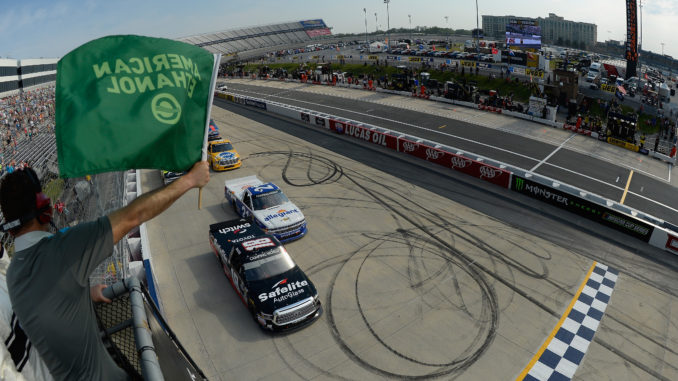 NASCAR'S Truck series will have a new name in 2019; the NASCAR Gander Outdoors Truck Series. Marcus Lemonis, the chairman of Camping World and star of CNBC's show, "The Profit", purchased Gander Outdoor Stores in 2018 through a bankruptcy auction, with a bid valued at about $390 million at the time.
"Gander Outdoors' customer base has an affinity to the outdoor lifestyle and will transition seamlessly as the title sponsor of our national series in 2019," said Steve Phelps, NASCAR Chief Operating Officer. "The NASCAR Camping World Truck Series has a consistent and dedicated fan base that will embrace the Gander Outdoors brand. This expanded agreement demonstrates our partners' confidence in the on-track product and the power of our brand loyal fan base."
"Nearly a decade ago we felt strongly our entitlement sponsorship would dramatically increase Camping World's customer base and it's delivered," said Marcus Lemonis, Chairman of Camping World. "We expect the passionate fans of NASCAR will embrace Gander Outdoors the same way they supported Camping World and we couldn't be more excited about the future of the series."
Current sponsor Camping World has been the title sponsor since 2009, when it replaced Craftsman, who had sponsored the series from the inception. The current sponsorship deal runs through 2022. Camping World will continue to sponsor the truck series through the remainder of the 2018 NASCAR season.