It's Time for NASCAR to Get Serious About Penalties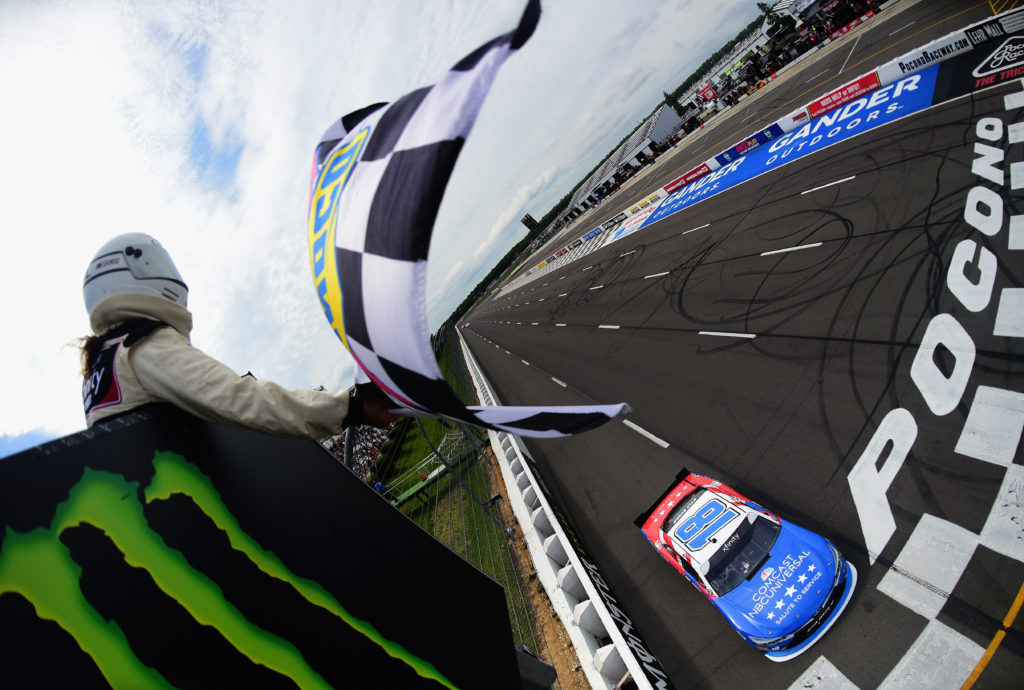 Shortly after the NASCAR XFINITY Series race at Pocono Raceway on Saturday, it was announced that Kyle Busch's race winning car was found to be illegal.
The No. 18 Joe Gibbs Racing Toyota failed post-race inspection after the car was found to be too high in the left front.
Last week, the No. 20 JGR car of Christopher Bell was assessed an L1 penalty for failing height measurement testing that resulted in a one-race suspension for the crew chief Jason Ratcliff, a $10,000 fine, and a loss of 10 driver and owner points.
These penalties, especially for race winners, seem to happen far too often in NASCAR competition. For drivers competing for a championship in their respective series, an L1 penalty for a race winner used to be considered an 'encumbered' win, meaning it doesn't count for playoff eligibility.
At Dover International Speedway in May, Justin Allgaier's race winning car was deemed to be illegal after the truck trailing arm spacers and pinion angle shims were not in complete contact with the corresponding mating surface. That resulted in crew chief Jason Burdett being fined $25,000 and suspended from the next two points races and Allgaier being docked 25 driver points and the team 25 owner points. Despite winning the race, due to the penalty, that win will not count toward Allgaier's playoff eligibility.
When is enough really enough?
I'm tired of watching a race, seeing a guy win, do his burnouts and have his victory lane interview just to have the win tarnished a short time later. I think it's time for NASCAR to get more serious about these penalties.
If NASCAR would just come out and say the very next time a race winner is found to be in violation of the rules during the post-race inspection they will not only strip the win away but they will actually park the violating car for one race, how quickly do you think the cars would all of a sudden start passing every post-race inspection?
Don't be fooled; many teams will push the rule boundaries right to the very edge and sometimes accidentally go over that edge.
It's going to take NASCAR putting their foot down, drawing that line in the sand, and saying absolutely do not cross this line. The first time a major team has to sit home the next week, it would get everyone's attention. I know that it would make fans, drivers, and sponsors mad. But you know what else should make them mad? Losing to a car that was deemed to be illegal after the race and yet the race winning car still got all of that air time by winning and being out front. Sure, they are hit with a chicken scratch fine and suspension but we have seen this happen enough times now to where we know that it's not taken all that seriously.
I had someone arguing with me that it would be a crushing blow for the sponsors if they had backed a car for an event and the car was sitting in the garage and not at the track. I was asked how in the world could that be good for NASCAR? Well, it's not ideal. But again, put yourself in the shoes of the other sponsored vehicles.
Chase Elliott was carrying the Allegiant sponsorship on his No. 23 Chevrolet that finished second. Allegiant is likely upset finishing second to a car that was found to be illegal after the race, among the other teams, drivers and sponsors who passed post-race technical inspection.
If NASCAR set a precedent and said the next time this happens to a winning car they get to sit at home a week, I would venture to bet that this would be a thing of the past.
We've seen that fines and points penalties aren't enough. Take that next step and park an offending car for the next race and the problem will likely be solved.
**The opinions expressed on this site are not necessarily those of the publisher, management or staff. All comments other than website related problems need to be directed to the author. (c)OnPitRoad.com. **