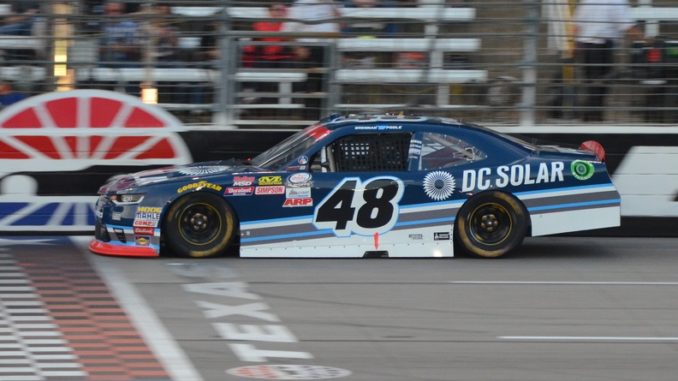 Former NASCAR rising star Brennan Poole has filed a lawsuit against his former team owner, Chip Ganassi Racing, as well as Spire, a talent agency that represented Poole. Lawsuits, by nature, get sticky and normally drag out information of a salacious nature, and this one is no different.
The allegations brought forth by Poole (vis this lawsuit) are:
Poole alleges that DC Solar – which was his primary sponsor for all 83 of his Xfinity Series starts, 17 of which were made with Harry Scott, Jr. as the car owner and the final 66 with Chip Ganassi Racing (CGR) – was brought in to the mix by himself and his father Tom Poole. Poole also retained the services of Spire to represent him and his interests in the NASCAR community.
Poole claims there was a non-solicitation provision written into his contract with CGR, which essentially retained DC Solar's sponsorship for Poole in the event of his departure from CGR.
The lawsuit also alleges that "CGR and Spire diverted DC Solar to CGR through deception, misrepresentation and the manipulation of the sponsor/driver relationship between Brennan Poole and DC Solar."
Since Poole's departure from Ganassi at the end of the 2017 XFINITY Series season, DC Solar has been a major sponsor of CGR driver Kyle Larson and, to a lessor extent, Jamie McMurray. This scenario leaves Poole without a sponsor, and without a ride for the 2018 season.
The lawsuit also alleges that Poole was promised by Spire that he would have a ride in the Monster Energy NASCAR Cup Series because Jamie McMurray was going to retire at the end of the 2016 season, neither of which came to fruition.
Poole also claims that he was approached personally by team owner Richard Childress as part of an inquiry to have Poole drive in the Cup Series for Richard Childress Racing with DC Solar as the primary sponsor.
He says that Spire told him he was chasing "fool's gold" with Childress and downplayed the teams interest in him. Poole claims that Spire in turn started a rumor that he was being considered to pilot the No. 5 car for Hendrick Motorsports, after it was vacated by Kasey Kahne following the 2017 season. The suit alleges that DC Solar was kept in the dark about these negotiations by Spire, as they told DC Solar that RCR wanted too much money for the ride.
Furthermore, the lawsuit alleges that Spire informed Poole and his father in 2017 that they had developed a relationship with Poole, CGR and DC Solar and were actively consulting with CGR.
Neither Spire nor Chip Ganassi Racing have commented on the lawsuit.