Shady Sponsorship Deals in NASCAR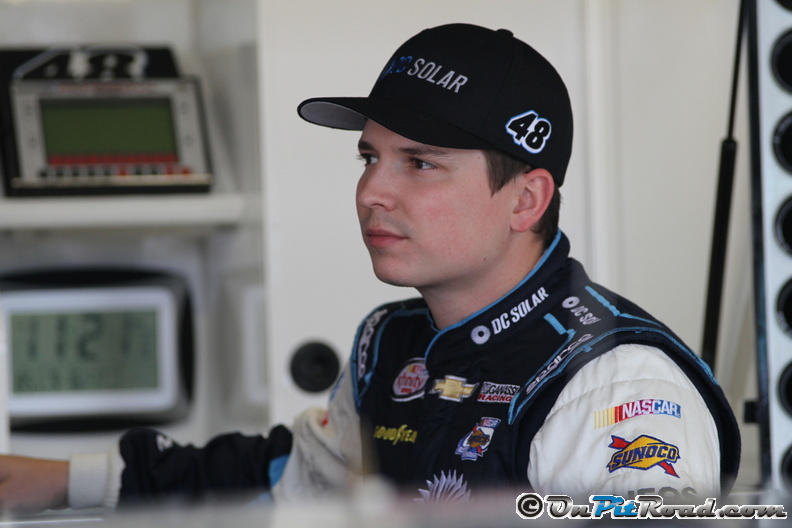 Earlier today, ESPN's Bob Pockrass reported that currently unemployed Brennan Poole is suing his former team owner Chip Ganassi Racing and agency Spire for allegedly conspiring to take sponsor DC Solar away from him and move the sponsorship to Kyle Larson in the Monster Energy NASCAR Cup Series.
The allegations are pretty serious and we will just have to see how this all plays out. The news got me thinking about all the strange, shady, or unscrupulous sponsorship deals in NASCAR through the years. Let's take a look at a few of them:
(1977-1983) The JD Stacy Pack
If you haven't read the story of Jim "JD" Stacy, seek it out.
Stacy, a megalomaniac millionaire, made his fortune in the coal mining industry. He burst onto the NASCAR scene in 1977, buying out Norm Krauskopf's operation. Stacy's inaugural race as an owner came at the Firecracker 400 in Daytona with Neil Bonnett as his driver. Bonnett won the pole and finished eighth in a solid effort. Bonnett would go on to win at Richmond in September as well as the season finale at Ontario, California.
In 1978, Stacy was rumored to be in financial trouble and Ferrel Harris and Harry Hyde both sued him in an attempt to get money owed to them. Towards the end of the '78 season Stacy noticed some strange wires hanging from under his personal car one autumn day. It was then allegedly discovered to be a bomb rigged to explode when Stacy started the car. Shortly after, he dropped off the radar for several years.
In 1981, Stacy was back in the spotlight again, purchasing Rod Osterlund's team and getting the services of one Dale Earnhardt. Earnhardt only made four starts for Stacy before leaving the team and driving several races for Richard Childress. Stacy finished off '81 with Joe Ruttman as the driver and headed into 1982  with Jim Sauter driving a second car. He also personally sponsored five other teams. Eventually, checks started bouncing and promises were broken and Stacy would once again find himself out of Cup racing at the end of the 1983 season.
(1998) Speed-Block
Darrell Waltrip missed out on the Pennzoil sponsorship in 1998, as they chose Dale Earnhardt Inc. over Waltrip's team.
At the 11th hour Speed-Block came calling offering Waltrip $2 million per year but also promised commission on every sale, which could have been worth $10 million a year.
Speed-Block was a company not many had ever heard of and the $500,000 check that was promised prior to the Daytona 500 never materialized. Instead, Speed-Block cut a check for $50,000 to Waltrip. The check bounced and Waltrip never received a dime from Speed-Block. He would shutter his racing operations only a couple of months into the 1998 season.
(1999) Big Daddy's BBQ Sauce
After losing Heilig-Meyers sponsorship after the 1998 season, veteran owner Junie Donlavey turned to Big Daddy's BBQ Sauce and rookie driver Mike Harmon.
Big Daddy's and Donlavey announced a three-year $6 million sponsorship deal in December 1998. When the corporate check from Big Daddy's for $1.5 million prior to the start of Daytona Speedweeks came back with a "stop payment" attachment, Donlavey knew the relationship was over.
(2000) Lycos
Lycos was a fairly popular online search engine in the late '90s and early 2000s. They sponsored Matt Kenseth in the Busch (XFINITY) Series in 1999 and jumped up to the Cup Series in 2000 with Tyler Jet Motorsports and driver Johnny Benson.
In the sponsorship agreement, Lycos agreed to provide Tyler Jet with $4 million worth of advertising banners on the Lycos Network. In turn, Tyler Jet was permitted to resell Lycos Advertising for cash or other consideration.
When TJ Motorsports could only sell $100,000 in Lycos Advertising by June 2000, they served written notice to Lycos that they were terminating the sponsorship agreement.
(2010) ExtenZe
In 2010, Robby Gordon filed a $690,000 lawsuit against ExtenZe, a maker of male enhancement pills. Gordon put ExtenZe on his No. 7 Cup ride and they refused to pay, citing breach of contract because he replaced rookie Kevin Conway in the car himself after the team nearly fell out of the top-35 in points.
Gordon alleged that ExtenZe had agreed to allow him to take over driving duties from Conway to try to keep the team higher in the point standings. You might say that ExtenZe "stiffed" Gordon on his payoff.
(2012) Trans-Lux
Joe Gibbs Racing sued Trans-Lux in 2012 for non-payment.
Trans-Lux, who manufactures video display boards, had sponsored Joey Logano in a Nationwide (XFINITY) Series win at Auto Club Speedway and was supposed to sponsor Denny Hamlin's Cup ride in a fall race.
(2015) Zloop
Kyle Busch Motorsports wound up suing former driver Justin Boston and sponsor Zloop in 2015 for non-payments.
Zloop missed $650,000 in payments toward an annual contract of $3.2 million. Robert Boston, the father of Justin Boston, was hit with federal charges of fraud after an indictment alleged that he was involved in a $25 million scheme that helped fund his son's racing career.
Robert Boston was found guilty in December 2017 on charges of conspiracy to commit wire fraud, wire fraud, securities fraud, and money laundering. He has yet to be sentenced, but his charges could come with a prison stay of up to 70 years.
Others that deserve a dishonorable mention include:
Bobby Ginn and the whole fiasco surrounding his short-lived NASCAR team ownership.
360 OTC
Wave Energy Drink
ActivWater
Oxywater
As long as we have air to breathe, there will be shenanigans when it comes to racing sponsorship. Many times, desperate teams and owners take dangerous deals in hopes they will work to their benefit. But most of the time these deals do not pan out and we are left with disastrous results.
**The opinions expressed on this site are not necessarily those of the publisher, management or staff. All comments other than website related problems need to be directed to the author. (c)OnPitRoad.com. **