Andrew Ranger Outlasts the Rain for Chaudiere Victory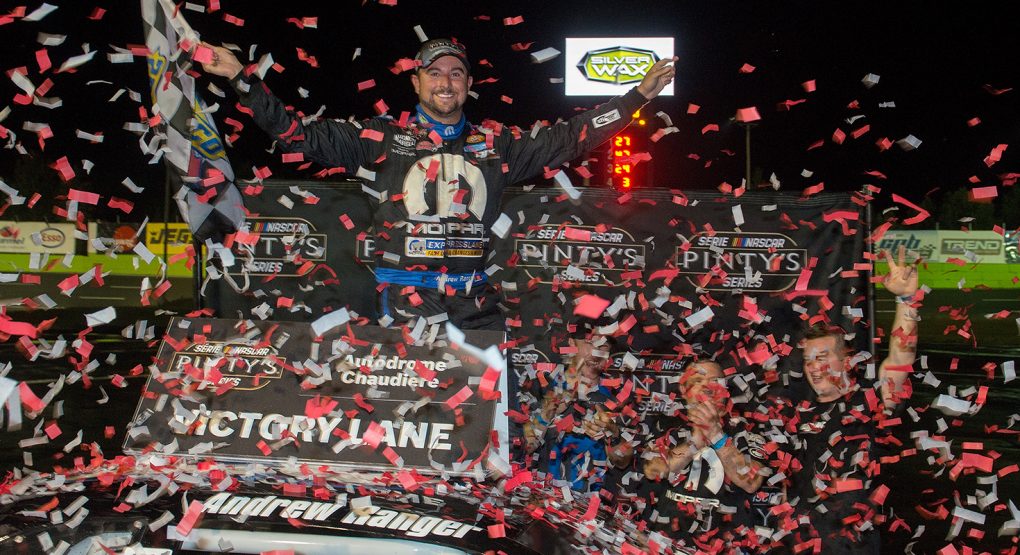 VALLEE-JONCTION, Que —It had been 22 races since Andrew Ranger had visited Victory Lane.
With a little help from mother nature, Ranger returned to the winner's circle by capturing the rain-shortened Bumper to Bumper 300 Saturday at Autodrome Chaudiere.
The 31-year-old driver from Roxton Pond, Quebec used the high side to take the lead from L.P Dumoulin on a late-race restart and held on until Lap 220 when the rain showers came. Ranger's No.27 Mopar/ Pennzoil Dodge held off hard charges from Dumoulin and at one point battled side by side for eight laps.
This win marks Ranger's 23rd career Pinty's Series victory and first at the .250-mile bullring. He also becomes the third different winner in as many series races so far this season.
Polestitter L.P Dumoulin, who led a race high 167 laps including the first 146 laps of the event, finished second. Donald Theetge brought his No.24 Chevy Camaro home third, completing the podium.
Cole Powell and D.J Kennington finished fourth and fifth, respectively.
Marc-Antoine Camriand, JF Dumoulin, Peter Shepherd III, Simon Dion-Viens and Larry Jackson rounded out the top 10 finishers.
Kevin Lacroix, who came into this race as the series points leader, suffered a blown motor on Lap 125 ending his day early. Lacroix would finish 16th.
Following Lacroix's misfortune, LP Dumoulin has retaken the points lead by seven points over Cole Powell.  Andrew Ranger sits third -8, followed by Marc-Antoine Camirand -8 and Kevin Lacroix -11.
The NASCAR Pinty's Series will be back in action on Saturday, July 14 for the Pinty's Grand Prix of Toronto at Exhibition Place.