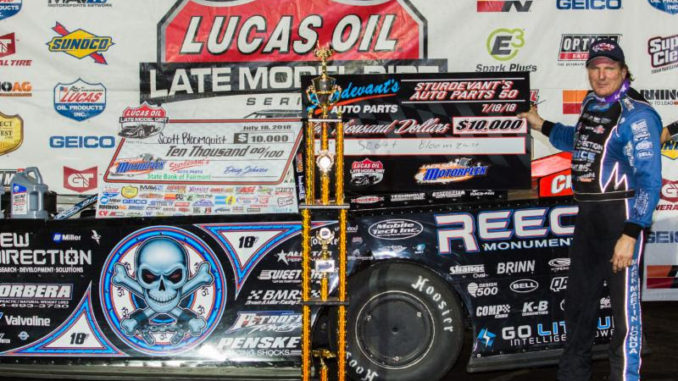 JACKSON, MINN. (July 18, 2018) – Scott Bloomquist led all 50 laps in the first-ever appearance by the Lucas Oil Late Model Dirt Series at Jackson Motorplex.
The first Super Late Model event at the half-mile oval in 30 years did not disappoint. Jonathan Davenport and Josh Richards tracked down Bloomquist in the final laps of the race, but came up second and third, respectively. Bobby Pierce was in the hunt the entire race and came home in fourth. Brandon Sheppard recovered from a lap one collision to take the fifth spot.
The 54-year-old, three-time Lucas Oil Late Model Dirt Series National Champion went to Lucas Oil Victory Lane for the series-leading seventh time this season. "I don't know what it is because we have no notes going into these first-time tracks. I told the crew when we pulled in that we were a lock for the win. We just came here to rock-and-roll and let her go. This is quite a beautiful facility. The track reminds me a lot of Knoxville. It has the berm on the bottom and you can race on this track. It holds moisture very well. We need to go to more tracks like this. I ran hard out there. I am ready now to head to Nebraska and try to take their $53,000 on Saturday night."
Davenport maintains the point lead heading to Nebraska for three nights of racing. "We have gotten better every time we've gone out in the last couple of weeks, the crew has been working hard and we keep improving. That is all you can ask for. What a great facility they have here, they should be proud of it. We had a few gremlins there that raised their head early on. We were better in the long runs. I thought before that last caution I was going to have a shot at the win."
Richards earned his second-straight podium finish and was complimentary of the race track and facility. "They have done a tremendous job here with this facility. The track raced great. The bottom was dominant for a while then the top came into it. On one of the restarts my carburetor stumbled there a little bit. We had a good hot-rod tonight. I was watching the water temperature close there at the end. I don't know if Scott slowed up at the end, but me and Davenport really closed in on him. This is a beautiful place. I hope we get to come here more often."
The winner's 93rd career Lucas Oil Late Model Dirt Series victory came behind the wheel of his own Sweet-Bloomquist Chassis powered by an Andy Durham Racing Engine. His sponsors include: New Direction Ag, Reece Monument Company, CatSpot, Sweet Manufacturing, Sorbera Chiropractic, Penske Shocks, Valvoline, Crossfit by Overton, Petroff Towing, and Horton Coal.
Completing the top ten were Kyle Bronson, Ricky Weiss, Mason Zeigler, Don O'Neal, and Earl Pearson Jr.
Lucas Oil Late Model Dirt Series
Race Summary
Wednesday, July 18, 2018
Sturdevant's Auto Parts 50 presented by State Bank of Fairmont
Jackson Motorplex – Jackson, Minn.
Miller Welders Time Trials
Fast Time Group A: Bobby Pierce / 15.633 seconds
Fast Time Group B: Scott Bloomquist / 15.402 seconds (overall)
Eibach Springs Heat Race #1 Finish (10 Laps, All Transfer): Scott Bloomquist, Darrell Lanigan, Dennis Erb, Jr., Jimmy Owens, Brandon Sheppard, Kyle Bronson, Don Shaw, Jimmy Mars
FK Rod Ends Heat Race #2 Finish (10 Laps, All Transfer): Josh Richards, Jonathan Davenport, Don O'Neal, Earl Pearson, Jr., Ricky Weiss, Jeff Massingill, Tad Pospisil, Clay Daly
Simpson Performance Products Heat Race #3 Finish (10 Laps, All Transfer): Bobby Pierce, Mason Zeigler, Mike Marlar, Tim McCreadie, Hudson O'Neal, Scott Ward, Gregg Satterlee, Blair Nothdurft
Lucas Oil Feature Finish (50 Laps):
| | | | | | |
| --- | --- | --- | --- | --- | --- |
| FINISH | START | CAR # | DRIVER NAME | HOMETOWN | EARNINGS |
| 1 | 1 | 0 | Scott Bloomquist | Mooresburg, TN | $10,900 |
| 2 | 5 | 49 | Jonathan Davenport | Blairsville, GA | $6,400 |
| 3 | 2 | 1R | Josh Richards | Shinnston, WV | $4,500 |
| 4 | 3 | 32 | Bobby Pierce | Oakwood, IL | $3,450 |
| 5 | 13 | 1S | Brandon Sheppard | New Berlin, IL | $2,250 |
| 6 | 16 | 40B | Kyle Bronson ® | Brandon, FL | $1,900 |
| 7 | 14 | 7w | Ricky Weiss | Headingley, MB | $1,500 |
| 8 | 6 | 25Z | Mason Zeigler ® | Chalk Hill, PA | $2,000 |
| 9 | 8 | 5 | Don O'Neal | Martinsville, IN | $2,000 |
| 10 | 11 | 1 | Earl Pearson, Jr. | Jacksonville, FL | $1,900 |
| 11 | 10 | 20 | Jimmy Owens | Newport, TN | $1,875 |
| 12 | 7 | 28 | Dennis Erb, Jr. | Carpentersville, IL | $1,050 |
| 13 | 20 | 04 | Tad Pospisil | Norfolk, NE | $1,025 |
| 14 | 18 | 37 | Scott Ward | Hayti, SD | $1,000 |
| 15 | 24 | 76 | Blair Nothdurft | Sioux Falls, SD | $950 |
| 16 | 12 | 39 | Tim McCreadie | Watertown, NY | $1,725 |
| 17 | 9 | 157 | Mike Marlar | Winfield, TN | $900 |
| 18 | 21 | 22 | Gregg Satterlee | Indiana, PA | $1,575 |
| 19 | 4 | 14 | Darrell Lanigan | Union, KY | $1,550 |
| 20 | 22 | 28m | Jimmy Mars | Menomonie, WI | $825 |
| 21 | 23 | 32B | Clay Daly | Salinas, CA | $800 |
| 22 | 17 | 6m | Jeff Massingill | Keewatin, MN | $800 |
| 23 | 15 | 71 | Hudson O'Neal | Martinsville, IN | $1,500 |
| 24 | 19 | 42s | Don Shaw | Ham Lake, MN | $800 |
Race Statistics
Entrants: 24
Lap Leaders: Scott Bloomquist (Laps 1 – 50)
Wrisco Feature Winner: Scott Bloomquist
Margin of Victory: 0.470 seconds
Cautions: Earl Pearson Jr., Brandon Sheppard, Hudson O'Neal, Don Shaw (Lap 1); Clay Daly (Lap 14); Darrell Lanigan, Don O'Neal, Tim McCreadie, Mason Zeigler (Lap 14); Gregg Satterlee (Lap 17); Jimmy Owens (Lap 34)
Optima Batteries Hard Charger of the Race: Kyle Bronson (Advanced 10 Positions)
Midwest Sheet Metal Spoiler Challenge Point Leader: Jonathan Davenport
Allstar Performance Power Move of the Race: Mason Zeigler
Sunoco Race for Gas Highest Finisher: Jonathan Davenport
Hot Rod Processing Rookie of the Race: Kyle Bronson
COMP Cams Engine Builder of the Race: Durham Racing Engines
Ohlins Shocks Chassis Builder of the Race: Sweet-Bloomquist Race Cars
Outerwears Crew Chief of the Race: Cody Mallory (Scott Bloomquist)
Fastest Lap of the Race: Bobby Pierce (Lap #4 – 15.5670 seconds)
STEEL-IT Most Laps Led: Scott Bloomquist (50 Laps)
Dirty Girl Racewear Farthest Traveler: Clay Daly
PFC Brakes Pole Award: Scott Bloomquist
Time of Race: 47 minutes 30 seconds