Statistically Speaking: Foxwoods Resort Casino 301 at New Hampshire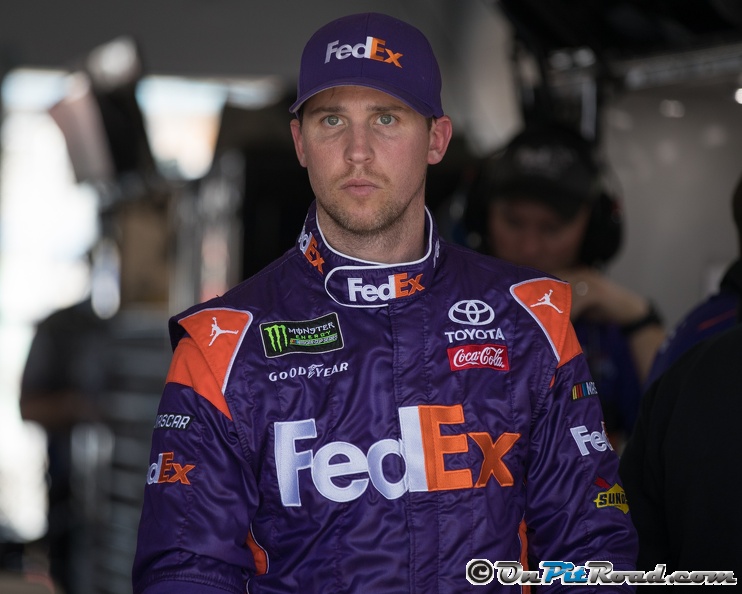 This week the Monster Energy NASCAR Cup Series invades the "Magic Mile" for the Foxwoods Resort Casino 301 at the New Hampshire Motor Speedway.
The track measures 1.058 miles in length with turns banked from two to seven degrees. Each straightaway is 1,500 feet in length. Groundbreaking for the track was in August of 1989, with the first MENCS race on July 11th, 1993 won by Rusty Wallace. There have previously been 46 Cup races at NHMS.
From 1997-2017 there were two events at the track each year, but starting this season, there will only be one race. The track's other date was given to Las Vegas Motor Speedway.
Sunday's race will consist of three stages with stages one and two each being 75 laps each and the final stage being 151 laps.
Over the past three years, Matt Kenseth leads all drivers at NHMS. Over those six races, Kenseth has won twice and had five top-fives and six top-10 finishes. Kenseth was driving a JGR Toyota over that time period however and this weekend he will be in the No. 6 Constantine Sealing Service Roush-Fenway Ford.
Kyle Busch also has two wins, three top-fives and four top-10s. The other two winners over the past three years are Denny Hamlin and Kevin Harvick. Team Penske teammates Brad Keselowski and Joey Logano each have four top-10s in that span as well. From 2015 to 2017, Kenseth is one of only four drivers to complete all 1803 laps ran. The other three are Martin Truex, Jr., Keselowski and Hamlin. Kenseth has an impressive average finish of 2.8 over those six races.
If you are looking toward experience, Kenseth also leads the way with 36 previous Cup starts at NHMS. Kevin Harvick and Kurt Busch both have 34 starts each, and Jimmie Johnson and Ryan Newman both have 32 starts.
There are six drivers tied atop the all-time win list with three wins each. Those drivers include both Busch brothers, Hamlin, Johnson, Kenseth and Newman. Kenseth has the most career top-fives with 12, while Kenseth and Johnson share the most top-10s of all-time with 21 each. Newman has won the most poles all-time with seven poles in 32 starts. Keselowski and Kyle Busch both have three poles each. Kyle Busch is also the all-time active lap leader with 973 laps led, which outpaces Newman's 722, Harvick's 706, Truex, Jr's 661 and Hamlin's 549.
Quick Hitters:
16 different drivers have made their first ever MENCs start at NHMS. Active drivers who made their first career start at NHMS include BJ McLeod, Corey LaJoie, and Joey Logano. Blake Jones will do that this weekend driving for BK Racing.
Two drivers have won their first career poles at NHMS. Brad Keselowski did it in 2010 and Patrick Carpentier in 2008.
There have been 24 different MENCS drivers to have victories at NHMS, led by Jeff Burton with four wins.
Six of the 46 MENCS races at NHMS have been won from the pole position.
Five times, drivers have won their first MENCS race at NHMS. Joe Nemechek in 1999, Robby Gordon in 2001, Newman in 2002, Clint Bowyer in 2007 and Logano in 2009.
Jamie McMurray has raced at New Hampshire 30 times without a victory, leading all active drivers with most starts without a win at the track.
The closest finish ever at NHMS occurred on July 1, 2007 when Hamlin edged Jeff Gordon by 0.068 seconds. The second closest was Gordon beating Ernie Irvan in 1997 by 0.209 seconds.
Vegas Odds:
Kyle Busch – 5/2
Kevin Harvick – 13/4
Martin Truex, Jr. – 7/2
Denny Hamlin – 15/2
Clint Bowyer – 8/1
My picks:
Denny Hamlin
Kurt Busch
Martin Truex, Jr.
Joey Logano
Aric Almirola
**The opinions expressed on this site are not necessarily those of the publisher, management or staff. All comments other than website related problems need to be directed to the author. (c)OnPitRoad.com. **