Brake Failure Results in Hard Crash for Bubba Wallace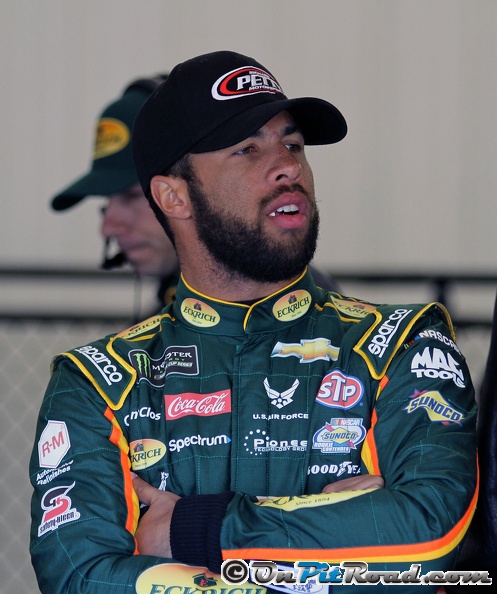 In the closing laps of Sunday's Gander Outdoors 400 Monster Energy NASCAR Cup Series event at the famed tricky triangle, a brake rotor exploded on Bubba Wallace's No. 43 Richard Petty Motorsports Chevrolet.
The complete brake failure happened just as Wallace was entering turn one which is a very high-speed corner. Wallace attempted to slow the car by driving down into the grass below the apron, but the effort seemed to have very little effect. The No. 43 Chevy Camaro slammed into the outside wall in a very similar fashion to Jimmie Johnson a few years back.
Adding to the drama, Wallace took several seconds longer than usual to drop the window net, a signal to track workers that the driver is ok. It seemed as if everyone at the race track was holding their breath awaiting the signal that the Mobile, AL driver was not seriously injured.
Fortunately, Wallace was able to climb from the car under his own power. Though, obviously shaken, he did quickly take a seat on the track surface. Wallace was subsequently checked and released from the infield care center.
Wallace remained in good spirits after the crash, even joking about the fact he had an ultrasound during the exam. "I'm okay.  That was a huge hit.  Babe, I'm fine, Mom, everybody back at home, I'm okay.  Hardest one of my career.  I was just telling them here there is no feeling like being helpless in that situation going off into Turn 1 and it scared the hell out of me.  I didn't know if I was going to remember if I hit or not, so we are good.  Bit my cheek, banged my foot off the pedal, I'm okay though.  I will wake up tomorrow and be a little sore, but the safety has come a long way.  It's good to be able to climb out of the car.  The EMT's were worried that I didn't let the window net down fast enough and I was like 'hell that was the last thing I thought about, I'm sorry.'  Everything was good they gave me an ultrasound, no twins or anything, so I'm good. Just an unfortunate ending for us.  Our Mile 22 Chevrolet was okay, it was decent, we were trying to get by and salvage a decent finish and had a brake failure."
A hard crash such as this brings everyone back to reality and serves as a reminder of just how dangerous this sport can be. It is also indicative of the impressive safety initiatives and tremendous advances built into the Cup Series cars.