Brandon Overton Gets Fifth Southern Nationals Payday while Casey Roberts Wins Series Title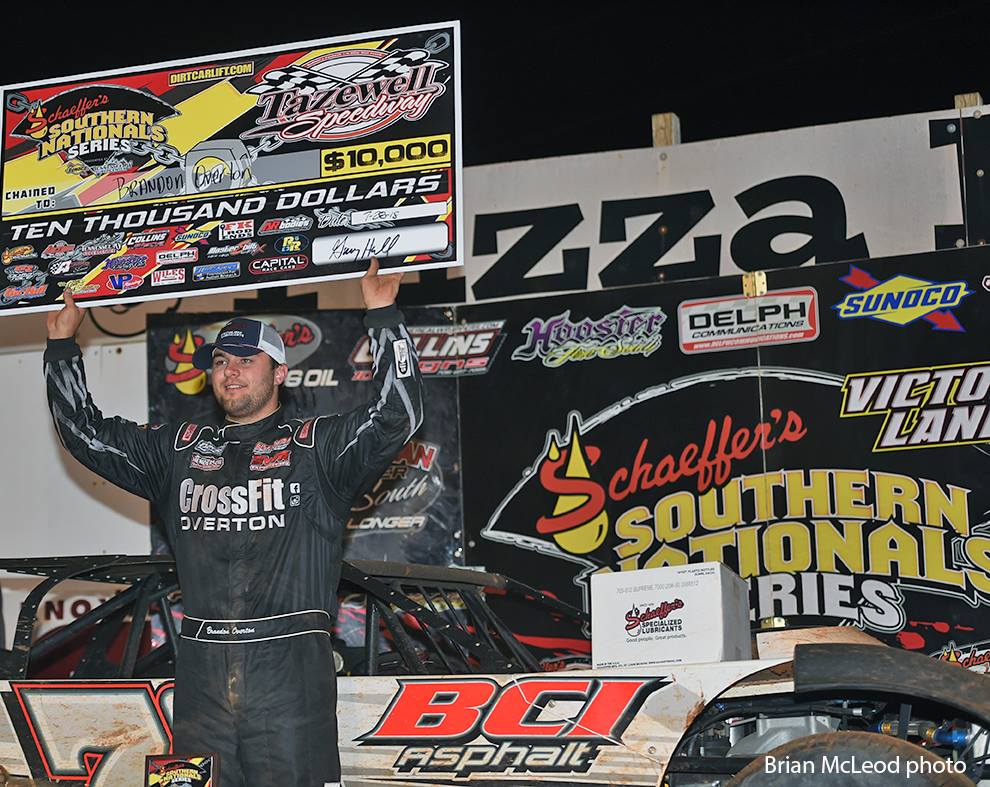 (July 28, 2018) Brandon Overton would lay claim to his fifth Schaffer's Oil Southern Nationals Series by Sunoco and Tennessee RV payday, this time worth $10,000 in Saturday's points finale at Tazewell Speedway during the Ray Varner Ford 53.
This was the tenth career victory for Overton, of Evans, Ga., while driving the Billy Franklin-owned, BCI Asphalt, Textron Off Road, Hoosier Racing Tire, RW Powell Construction-sponsored Clements Racing Engines-powered Rocket Chassis. Overton started eighth and marched through the field taking the lead for the first time on lap 32. He officially led twice in the main event.
Four caution flags slowed the 53-lap event. On lap seven, Kenny Collins would get on his roof after contact with another car on the front straightaway. On lap 21, race leader Dale McDowell would slow with a flat tire after contact with second place driver Michael Chilton. Chilton would gain the point for the restart and lead for the next ten laps. The caution would again fly on lap 30 as Steve Smith slowed with a flat tire. On lap 31, the final yellow would come out as Vic Hill came to a stop. Overton would overtake Chilton for the point on lap 32 and lead until Chilton would grab the top spot back on lap 44 as Overton had to check up in turn two. Overton would then retake the race lead on lap 50 and lead the remaining distance for the payday over fifth-starting Donald McIntosh, Chilton, Casey Roberts and Dale McDowell.
In post-race ceremonies, Casey Roberts was honored for his second Schaeffer's Oil Southern Nationals Series championship. Roberts drove the Blount Motorsports-owned, Vic Hill Racing Engines-powered Rocket Chassis to the title. Roberts is sponsored by Massey Electric, Arnold's Trucking, Stowers CAT and Tennessee RV.
The Schaeffer's Oil Southern Nationals Series presented by Sunoco Race Fuels and Tennessee RV would like to thank every race team, driver, promoter and track staff, sponsor and most of all the great race fans for their support in making the 14th annual Southern Nationals another great success.
Official Summary of Results
Schaeffer's Oil Southern Nationals Series
Round 9-Tazewell Speedway-Tazewell, TN
Feature Finish:
1. Brandon Overton-Evans, Ga.
2. Donald McIntosh-Dawsonville, Ga.
3. Michael Chilton-Salvisa, Ky.
4. Casey Roberts-Toccoa, Ga.
5. Dale McDowell-Chickamauga, Ga.
6. Eric Wells-Hazard, Ky.
7. Forrest Trent-Talbott, Tenn.
8. Craig Vosbergen-Perth, W. Australia
9. Ryan King-Seymour, Tenn.
10. Chad Ogle-Sevierville, Tenn.
11. Ivedent Lloyd Jr.-Ocala, Fla.
12. Ross Bailes-Clover, S.C.
13. Dakotah Knuckles-Ewing, Va.
14. Cla Knight-North Augusta, S.C.
15. Aaron Ridley-Chatsworth, Ga.
16. Eric Webber-Morristown, Tenn.
17. Brian Smith-Barbourville, Ky.
18. Steve Smith-Powell, Tenn.
19. Vic Hill-Mosheim, Tenn.
20. Carder Miller-Salem, Va.
21. Mitchell Burke-Tazewell, Tenn.
22. Kenny Collins-Colbert, Ga.
23. Brad Skinner-Springhill, Tenn.
Entries: 23
Overall Fast Qualifier: Ivedent Lloyd-11.813 seconds
Time of Race: 32 minutes, 59 seconds
Lap Leaders: McDowell (1-21), Chilton (22-31), Overton (32-43), Chilton (44-49), Overton (50-53)
Cautions: Four (laps 7, 21, 30, 31)
Red Flags: None
Provisionals: None
All Steel Engine Bonus: Eric Webber ($200)
Heat-1 Finish: Chad Ogle, Ivedent Lloyd Jr., Steve Smith, Casey Roberts, Aaron Ridley, Forrest Trent, Ryan King, Brian Smith.
Heat-2 Finish: Dale McDowell, Donald McIntosh, Brandon Overton, Vic Hill, Cla Knight, Brad Skinner, Mitchell Burke, Dakotah Knuckles (DNS).
Heat-3 Finish: Michael Chilton, Eric Wells, Kenny Collins, Carder Miller, Craig Vosbergen, Ross Bailes, Eric Webber.
Final Series Points (nine races completed):
1. Casey Roberts-1,787
2. Dale McDowell-1,779
3. Brandon Overton-1,755
4. Donald McIntosh-1,723
5. Aaron Ridley-1,699
6. Forrest Trent-1,659
7. Cla Knight-1,627
8. Joey Coulter-1,499
9. Craig Vosbergen-1,396
10. Robby Moses-1,109
Final Rookie of the Year Points:
1. Forrest Trent-1,659
2. Cla Knight-1,627