NASCAR Five Burning Questions – August 25th 2018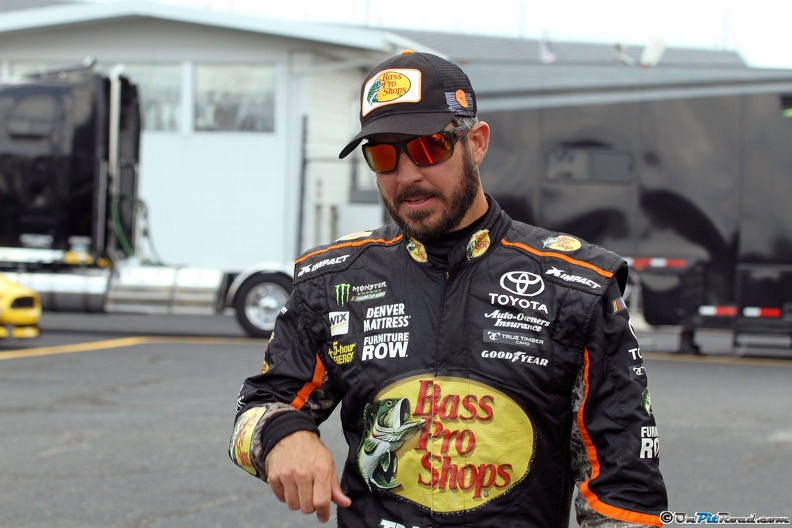 The Monster Energy NASCAR Cup Series may be off this weekend but that hasn't stopped an onslaught of news this week pertaining to all of the major NASCAR divisions. What are the biggest burning questions as we wind down the month of August?
1.  What is the future of Furniture Row Racing? 
There's a big elephant in the room when it comes to Furniture Row Racing. Over the past few weeks we've learned that they are still seeking full-time sponsorship for 2019, Martin Truex, Jr.'s status is up in the air, and now they have spoken with GMS Racing about potentially selling the team.
Furniture Row maintains that they are still seeking sponsorship for the 2019 season but with so many unknowns you have to wonder if all this talk will actually further hamper them from getting additional sponsorship? Truex is also a big wildcard in all of this and I actually predicted him to JGR in 2019 replacing Daniel Suarez back in July. Only time will tell what will happen with FRR/Truex. It is definitely the biggest piece of the Silly Season puzzle.
2. Will NASCAR make sweeping adjustments to the schedules in 2020? 
With many of the long-term track contracts reportedly set to expire after next season there are rampant rumors about what the 2020 schedule may look like across the MENCS, Xfinity, and Camping World Truck Series. Last week, NASCAR Executive Vice President Steve O' Donnell said on SiriusXM that he understands the desire for short tracks on the schedule.
I would love to see the Camping World Truck Series and the Xfinity Series on more short tracks in the near future. Tracks like Hickory, South Boston, Indianapolis Raceway Park, and Myrtle Beach should all get serious looks at returning to the schedule.
It also wouldn't hurt the Cup Series to freshen up their schedule. Changing some dates around and dropping one race from a couple of tracks might be a good start.
3. How will Bill Elliott fare at the Xfinity Road America race?
NASCAR Hall of Famer Bill Elliott is strapping himself back into the cockpit to tackle the Road America circuit this weekend in the GMS Racing No. 23 Xfinity car. Will he be able to hang with the young crop of Xfinity talent or will he have a little too much rust?
I think it will be a tall task for the Dawsonville, Georgia legend but you never want to count out anyone who has as many accomplishments as Elliott. The Johnsonville 180 is scheduled for a 3:00 p.m. start time Saturday afternoon.
4. Can anyone have a worse look than Lilly Diabetes right now? 
I could write an entire article about this whole fiasco but I will say that I feel that Lilly Diabetes had the ultimate knee-jerk reaction this week when they dropped sponsorship of Conor Daly after news broke of something that his father said in the early 1980's.
First off, this is something that happened before Conor Daly was even born. Secondly, why should Daly be punished for something someone else said? Lilly Diabetes, likely just trying to do damage control, actually damaged their image worse in my opinion by yanking their sponsorship from Daly just days before the Road America race.
In today's society everyone is so quick to go on the defensive as to not offend anyone. But if Lilly Diabetes would have just taken a step back and looked at the situation as a whole and gave themselves a moment to think this through I don't feel they would have made such a rash decision. Anytime you try to sweep something under the rug to make it just "go away" you are oftentimes creating an even bigger mess for yourself. I feel that's the case in this particular situation.
5. Will the CWTS race at the Canadian Tire Motorsports Park provide yet another highlight reel finish at the track?
The Camping World Trucks never seem to disappoint when they head to Bowmanville, Ontario for the annual race at the Canadian Tire Motorsports Park. Last season Austin Cindric moved Kaz Grala for the win. In 2016 we had the John Hunter Nemechek/Cole Custer crash across the line photo finish that saw Custer show his displeasure by tackling Nemechek after the race was over. The inaugural race in 2013 saw Chase Elliott crash Ty Dillon in the last corner to take the win.
It seems that the action in Canada is always hot and that we have the potential for wild finishes every time the Trucks visit the track. Will this year's race be any different or will we have another highlight reel moment?
Let us know what you think about the biggest questions in the NASCAR garage this week. We always love to hear from our readers!
**The opinions expressed on this site are not necessarily those of the publisher, management or staff. All comments other than website related problems need to be directed to the author. (c)OnPitRoad.com. **