Hey, NASCAR: More Truck Races, Please!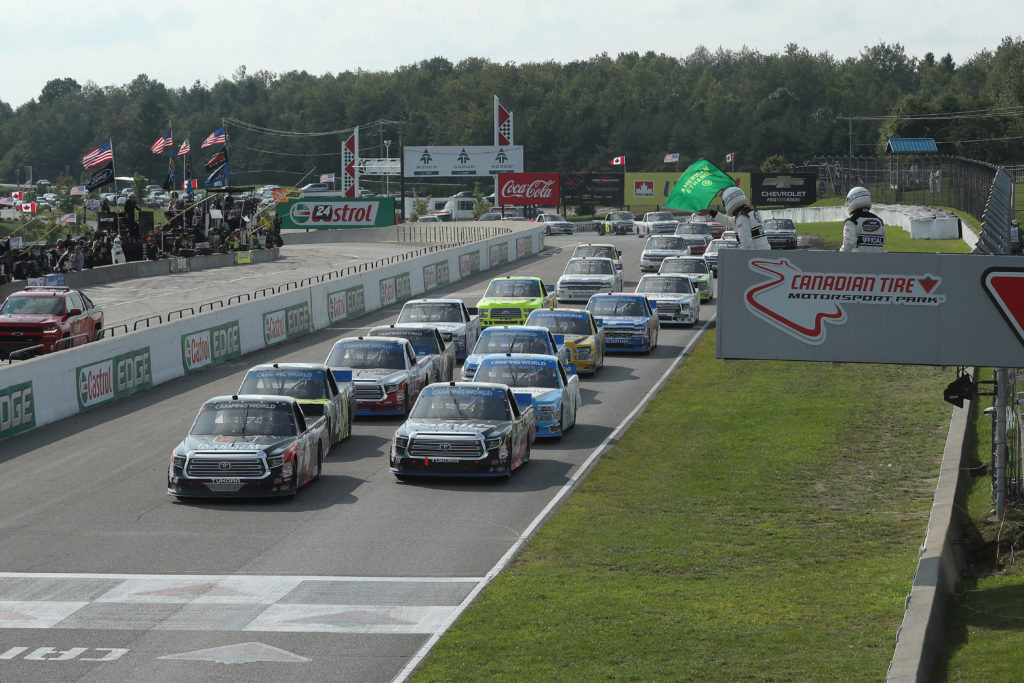 The NASCAR Camping World Truck Series kicked off their 2018 playoffs in dramatic fashion this past weekend at Canadian Tire Motorsport Park.
It was a race which saw Kyle Busch Motorsports teammates Noah Gragson and Todd Gilliland collide in the last corner, taking them both out of contention for the win. Canada always provides action in the Truck Series.
I am so pumped up over a great first playoff race in the CWTS that I can't wait for the next one. There's only one problem; their next playoff race isn't for another three weeks at Las Vegas Motor Speedway. Then the following playoff event is one day short of a month after the Vegas race at Talladega Superspeedway. Those are two pretty big gaps.
This year I feel that the Trucks have provided the best action among the top-three NASCAR divisions but their schedule isn't doing them any favors.
After their fourth race of the year on March 26 in Martinsville they were off until May 4 at Dover.
Now, there's an old saying of 'how can I miss you if you won't go away?', but there's also a point where we kind of just forget about things if they are gone for too long. These long layoffs in the Truck Series are a bit detrimental in keeping up positive momentum.
By the time we get to the Las Vegas race in a few weeks, Canada will be but a distant memory. The trucks don't need to run 36 races like the Cup cars but I do feel that adding another four or five events during the course of the season would go a long way in keeping the series fresh in everyone's minds.
With all of the mayhem and hurt feelings that came out of Canada how great would it be if the series were heading to Hickory, Myrtle Beach, or Lucas Oil Raceway (formerly Indianapolis Raceway Park) this weekend or next? Instead, our next CWTS race will be on September 14 at the 1.5 mile Las Vegas Motor Speedway.
There is a lot right about the CWTS right now but I feel that just a few extra races could really benefit the series and it's fan base. Let's go back to Hickory at Easter and run another short track during the month of April. Why not run a truck race on the Friday night before the Brickyard 400 at Lucas Oil Raceway?
I know that the 2019 schedules are already basically set in stone but for 2020 I would definitely look at adding races at:
Hickory Speedway, North Carolina
Knoxville Raceway, Iowa (dirt)
Lucas Oil Raceway, Indiana
Memphis International Raceway, Tennessee
The Dirt Track at Charlotte, North Carolina (to replace the race at Charlotte Motor Speedway)
Virginia International Raceway (to add one additional road course close to home)
Slot those five new tracks in and flesh out the schedule. It would give us three more short tracks, two more dirt tracks, and another road race. Now, I know NASCAR is looking at major schedule adjustments in 2020 so perhaps we could get even more short tracks if they wouldn't run quite as many speedway races. Only time will tell on that front.
What do you think? Would you like to see more truck races during the season? Does the longer layoffs hurt the series in your mind? Drop us a comment below and tell us how you feel!
**The opinions expressed on this site are not necessarily those of the publisher, management or staff. All comments other than website related problems need to be directed to the author. (c)OnPitRoad.com. **