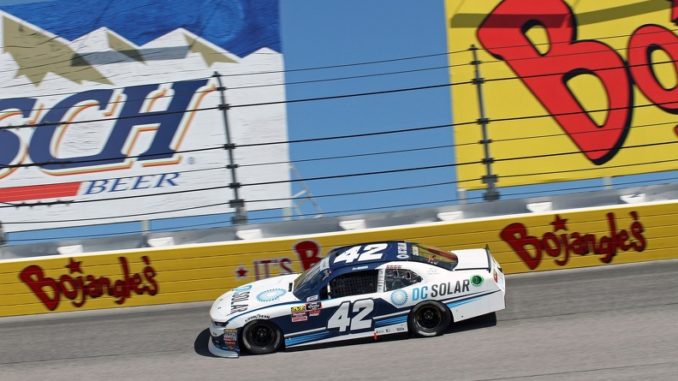 Everyone is talking about the crash that occurred in the Xfinity Series race on Saturday at Darlington Raceway. The incident has fired up social media with everyone spouting opinions on what happened and who was at fault. Naturally, there are many varied opinions. Some in favor of Kevin Harvick, some in favor of Ross Chastain and still others stating it was just hard racing. Well, here is my take.
First, let's recap what happened. Chastain, taking full advantage of the opportunity provided him by Chip Gannasi Racing, was leading the field in the No. 42 DC Solar Chevy Camaro.  On lap 111, Chastain had already won both stages and led 90 laps but was starting to feel pressure from former Cup Series champion, Harvick. Harvick was looking for his opportunity to take the lead while the two navigated lapped traffic. An opportunity presented itself through turns one and two when the No. 40 car of Chad Finchum, who was much slower than the leaders, was in the preferred high line in front of Chastain. Harvick was under Chastain attempting to pass and appeared to try to use Finchum as a pick. Chastain had to slow his car and turn under the car of Finchum. The lost momentum was exactly what Harvick needed.
Harvick was now fully alongside Chastain as the two headed for corner exit. Chastain held his ground trying to protect his lead. He stayed tight to Harvick's right rear quarter giving him little room. Harvick stayed in the throttle and aerodynamics took over. The loss of downforce on Harvick's car caused a loose condition sending Harvick into Chastain and Chastain into the wall.
As the two drivers bounced off the wall and back down the racetrack, Chastain appeared to take a hard left and turned the No. 98 of Harvick around. Harvick would take his car to the garage, Chastain lost laps making repairs.
Now that we have fully recalled the facts, let's get into the opinions. Chastain was taking full advantage of a great opportunity in top notch equipment. He was doing fantastic job. He sat on the pole, won the first two stages, and appeared to have the race in full control. Harvick was in the race for one reason – score the win. Therefore, there was no reason for Harvick to lay back and take it easy and settle for a good points day. All that mattered was the trophy.
It appeared that Harvick's car had gotten better and was little better than Chastain at this point. With the significant tire falloff at Darlington, we often see huge differences in speed between cars who have newer tires and cars who are on older tires. Navigating these cars with the wildly varied closing rates can become tricky, but it also provides opportunities to set picks and make passes at a track on which is traditionally difficult to pass. Harvick's is very experienced, recognized this opportunity, and took it.
Regarding the wreck, Harvick did absolutely nothing wrong. He was doing what he is paid to do – win races and take advantages of the opportunities that present themselves. For the people on social media who think Harvick should have given Chastain a break because this was his big chance, they could not be more wrong. This is professional motorsports. We do not give people breaks because it is a feel-good story.
Chastain also did absolutely nothing wrong. He too is paid to win and do the best job he can do. Anyone thinking he should just lift and give away positions is also very wrong. We want to see these drivers race hard, not move over and give away positions. After all, good, hard racing is for what fans have been screaming. Well, this is what that looks like. Not giving way, not giving someone a lane just because they got under you. A driver's job is to NOT give you what YOU need to win.
So, regarding the incident itself, there is absolutely no fault here on either driver. It is exactly what it should be – good, hard racing. Now, this is not to say these two moves were the smartest options.
If Chastain had backed out, he may have had another shot or at least finished second. But, he chose not to and that's ok.
Also, Harvick, being the experienced driver he is, knew this situation was not ideal. He could have easily lifted and waited for another opportunity. But, he chose not to and that's ok.
Now, just because this was a "racing deal", it does not mean everyone was totally innocent either. After the crash, Chastain appeared to retaliate by turning Harvick on the straightaway right in front of traffic. That should have never happened. It showed poor judgement. For that, I say Chastain was in the wrong.
Harvick, is not blameless either. His post-race interview comments were uncalled for. "I tried to stay as low as I could, and he just rode on my door," Harvick said. "That's just a really inexperienced racer and a really bad move there and got the air and got on beside me and just kept going up the race track. I couldn't do anything with the wheel." First of all, Harvick put himself in that position, not Chastain. If he had this apparent knowledge that Chastain was so inexperienced, why would he put himself in that situation? Also, to expect drivers to simply give way is simply wrong and makes him seem a little entitled. I personally think Harvick was trying to take advantage of Chastain's supposed inexperience, thinking he would back out and move over. Again, to be clear, there is NOTHING wrong with that line of thinking. It's blaming the other driver for not doing what you expected that is the problem.
Again, give and take is a part of the sport and when running for championships week in and week out, I understand why drivers may decide to give a little more room in some situations. That is smart racing. However, that is NOT a requirement and most certainly is NOT what fans pay to see. We should never desire a time when we say, "oh the second-place driver got to the leader's bumper, therefore, the leader must concede the position". No one wants to see that.
This situation also brings to light more reasons Cup drivers should not be competing in the Xfinity series, but that is another argument for another day.
**The opinions expressed on this site are not necessarily those of the publisher, management or staff. All comments other than website related problems need to be directed to the author. (c)OnPitRoad.com. **