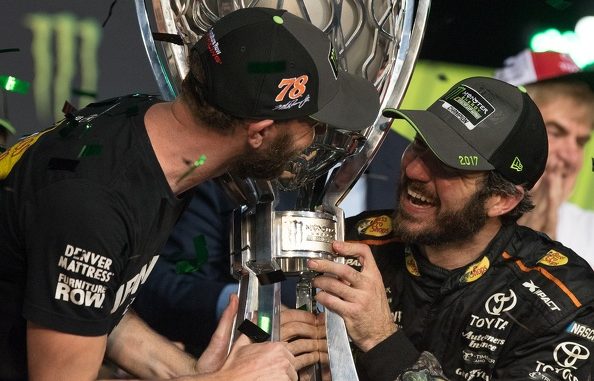 With the announcement today that Furniture Row Racing will cease operations at the end of the 2018 Monster Energy NASCAR Cup Series season, it's time for NASCAR to face the facts: This is a blow to the series as a whole and something needs to be done to repair the financial burden on teams.
One of NASCAR's top teams—nay, the top team, if you look at last year's standings—is shutting down for good in just a few months. It's a team that went from bottom of the barrel to champion in about 10 years time.
Furniture Row Racing's 2017 championship was a sign for team owners, present and in the future, that it's possible to go from subpar to title-worthy. However, today's announcement does nothing to entice new team owners about the potential of becoming a competitive race team. In fact, what it will likely do is drive them away.
Let's say, for argument's sake, that I'm a rich millionaire (unfortunately I'm not) thinking about investing in NASCAR. It's a decision I've been mulling over for some time, but now I'm beginning to back track because in the last few months I've seen a seven-time championship winning duo in Chad Knaus and Jimmie Johnson struggle to find sponsorship. I've seen the defending champion in Martin Truex, Jr. lose his sponsor and have no one step up to replace it, and now, that team's shutting down. Nothing about any of that makes me want to pour any of my hard-earned, hypothetical dollars into a floundering sport.
As I wrote at the beginning of this piece, it's time for NASCAR to face facts. This business model is becoming increasingly hard to sustain.
Teams are demanding too much money from sponsors to compete. Drivers are demanding too much money in their contracts. Teams are spending too much money on the latest technological advances, wind tunnels and in-house Optical Scanning Stations.
It's time for NASCAR to step in and make this a more financially feasible sport. If you have to, put in a spending cap. Sure, the big teams like Hendrick Motorsports, Team Penske and Joe Gibbs Racing may oppose a spending cap at first, but it would help equal out the competition and save everyone boatloads of money.
Too many businesses are looking at NASCAR and saying, "Yeah, no. This isn't worth it. No return on investment."
Lower the costs of things. It's easier said than done, but it needs to be done.
Make the National Association for 'Stock Car' Auto Racing a 'stock' series again. And if you don't believe me, believe Michael Waltrip, another one of NASCAR's team owners whose team got run into the ground by sponsorship issues and rising costs.
Listen people closely and I will tell why making a @NASCAR team work financially is nearly impossible. NASCAR stands for National Association for STOCK Car Auto Racing. The Stock piece of our name is gone. Bring back Stock and you might fix a broken business model.

— Michael Waltrip (@MW55) September 4, 2018
If NASCAR wants to bring more Barney Visser's and more Rob Kauffman's to this sport, there needs to be some sort of incentive or those millionaire moguls will spend their money elsewhere.
**The opinions expressed on this site are not necessarily those of the publisher, management or staff. All comments other than website related problems need to be directed to the author. (c)OnPitRoad.com. **