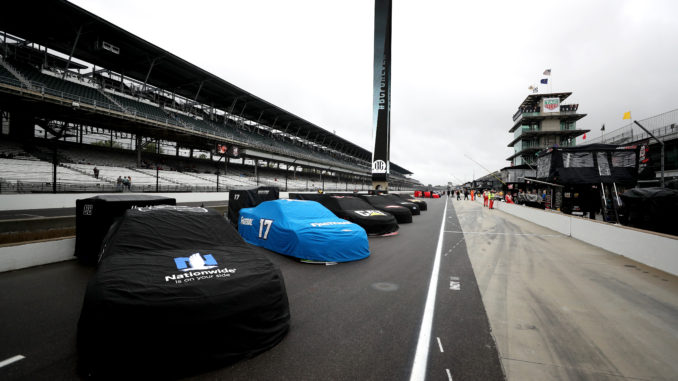 Race fans at the Indianapolis Motor Speedway this weekend will get to witness something almost unheard of in modern-day NASCAR racing tomorrow; a Monday jam-packed with NASCAR XFINITY Series and Monster Energy NASCAR Cup Series racing with no prior track time for either series.
Continued efforts by NASCAR to dry the track on Sunday were thwarted by Mother Nature after hours of mist and rain showers that didn't show up on the weather radar. As a result of this, NASCAR was forced to postpone Sunday's Brickyard 400 to Monday afternoon.
The XFINITY Series will race on Monday morning at 10:00 a.m. as a precursor to the Cup Series who will hit the track at 2 p.m.
Eight drivers are scheduled to attempt running all 650 miles tomorrow by competing in both the Lilly Diabetes 250 and the Big Machine Vodka 400 at the Brickyard. Those drivers are Ryan Blaney, Chase Elliott, Austin Dillon, Ty Dillon, B.J. McLeod, David Starr, Ross Chastain and J.J. Yeley.
Blaney will start on pole for the morning's XFINITY race while Kyle Busch will be at the helm for the Cup race.