XFINITY Drivers, Teams Highlight Issue of Postponing Race to Monday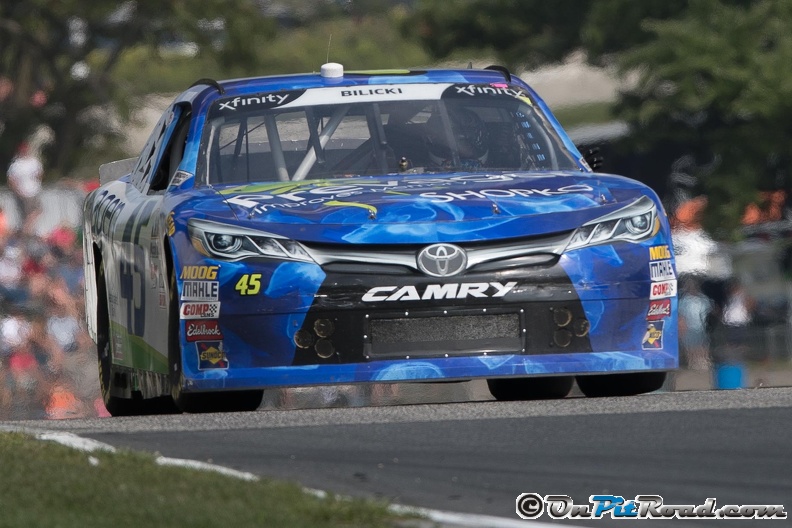 With rain running rampant at the Indianapolis Motor Speedway, NASCAR was forced to cancel all of Saturday's on-track activities.
That meant no practice or qualifying for the Monster Energy NASCAR Cup Series, but it was the NASCAR XFINITY Series and some of its smaller teams that felt the biggest effect in the garage.
The XFINITY race was postponed, not to Sunday before or after the Cup event, but to Monday, a decision that didn't sit too well with many.
You see, the next race after Indy on NASCAR's schedule is at Las Vegas Motor Speedway; a race taking place on the other side of the country. The postponement to Monday means teams have little to no turnaround on their trip to Sin City this week.
XFINITY driver Josh Bilicki was one of many expressing his opinions via Twitter. He says his JP Motorsports team will now have to drive straight to Las Vegas from Indianapolis with no chance of working on the car at their race shop in North Carolina.
Racing on Monday will make things tough from a logistical standpoint for teams getting the cars ready and to Las Vegas on time. This is the top tier of racing though, and we already have a plan in place to make it to Vegas on time. ?

— Josh Bilicki (@joshbilicki) September 8, 2018
Our @JP__Motorsports hauler will drive straight to Vegas from Indy. Two crew members will drive the team van with parts for Vegas. The rest of the team will fly in on Wednesday and get the cars ready in the @southpointlv parking lot.

— Josh Bilicki (@joshbilicki) September 8, 2018
And to make matters a bit more difficult for Bilicki, he'll need to be careful in Monday's race because he'll be racing the exact same car in Las Vegas, a car that got zero track time at Indianapolis this weekend.
Oh by the way, we are running the same car at Vegas, so we need to get through Indy clean for this plan to take place. ?

— Josh Bilicki (@joshbilicki) September 8, 2018
Bilicki wasn't the only driver in the garage expressing discontent about racing on Monday. Tommy Joe Martins offered a solution he hoped NASCAR would consider.
We wanted a rescheduling of the race, not a postponement. This decision throws off all plans for this race AND Vegas.

— Tommy Joe Martins (@TommyJoeMartins) September 8, 2018
Oct 13 I think is what was discussed

— Tommy Joe Martins (@TommyJoeMartins) September 8, 2018
Meanwhile, DGM Racing driver Josh Williams, who will start 25th in Monday's race, has his own set of issues with the race's postponement — his day job.
👇 this guy is right I have a normal job to get to Monday going to be a little late I think https://t.co/5dA5mUGvYP

— Josh Williams (@Josh6williams) September 8, 2018
Brandon Hightower, starting 37th in the race driving for Carl Long, says a lack of full-time employees is what harms the small teams versus a bigger team like Joe Gibbs Racing or Team Penske in a situation such as this.
https://twitter.com/BHightowerb52/status/1038469184764760066