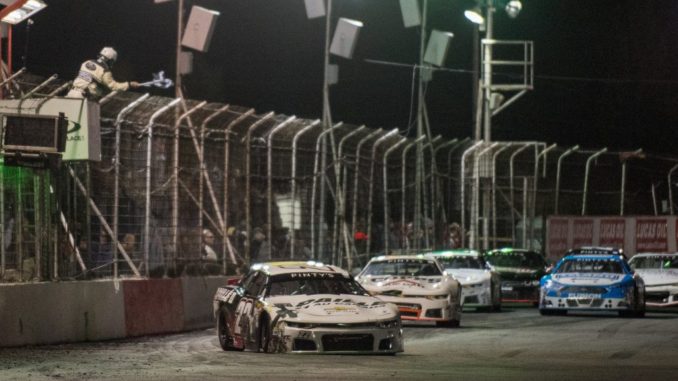 ST-EUSTACHE, Que — The NASCAR Pinty's Series made its annual trip to Autodrome St-Eustache and for many reasons it will be a night to remember.
For 22 Racing driver Marc-Antoine Camirand, it was a night six years in the making.
At GP3R, Camirand dominated the first half of the race before losing in a heartbreaking finish to teammate Alex Tagliani.
A late-race pile up set up a thrilling NASCAR Overtime finish and the perfect opportunity for Camirand to strike. This time Camirand was on the right side of history.
Camirand took the lead on Lap 239 just before a big crash would occur involving points leader L.P. Dumoulin, Kevin Lacroix and Tagliani forcing overtime.
Camirand's No.22 GM Paille Chevrolet held of hard charges from teammates Tagliani and Donald Theetge to finally claim his long awaited first NASCAR Pinty's Series victory in the Lucas Oil 250 at Autodrome St-Eustache.
The 39-year-old driver from Saint-Leonard-d'Aston, Quebec lead a total of 116 laps en-route to scoring his first win in 34 starts in the NASCAR Pinty's Series and also becomes the third first time winner this season joining Cole Powell & Theetge.
Camirand also becomes the first driver to take the legendary No.22 car to Victory Lane since car owner Scott Steckly retired at the end of the 2015 season.
Tagliani came into St-Eustache with one goal in mind, close the points gap to Dumoulin.
Tagliani took the lead on Lap 129 and lead for 77 laps before being shuffled back in the field after being trapped on the high side during the Lap 233 restart.
Tagliani mounted a charge to catch Camirand. He navigated his way through the Dumoulin/Lacroix wreck and was able to rebound finishing second, for his seventh podium finish of 2018.
Cole Powell found his way through the late race carnage and despite missing a front bumper, was able to finish third notching his seventh top-five finish of the season.
Kerry Micks came home fourth scoring his first top five since Toronto in 2016, while Theetge rounded out the top five.
David Michaud notched his best NASCAR Pinty's Series finish in sixth, followed by DJ Kennington in seventh.
Andrew Ranger, Jostens Rookie of the Race Steve Cote and points leader Dumoulin rounded out the top 10.
Following the frantic last laps at St-Eustache, Tagliani was able to cut Dumoulin's points lead to only five heading into New Hampshire in two weeks. Powell is in third in points followed by Kennington and Camirand.
The Lucas Oil 250 will air on TSN — Saturday, September 15 at 3:30 p.m. and on RDS2 — Tuesday, October 2, 10:30 p.m.
The NASCAR Pinty's Series will be back action September 22 for the Visit New Hampshire 100 at New Hampshire Motor Speedway. The first NASCAR Pinty's Series event held the United States.