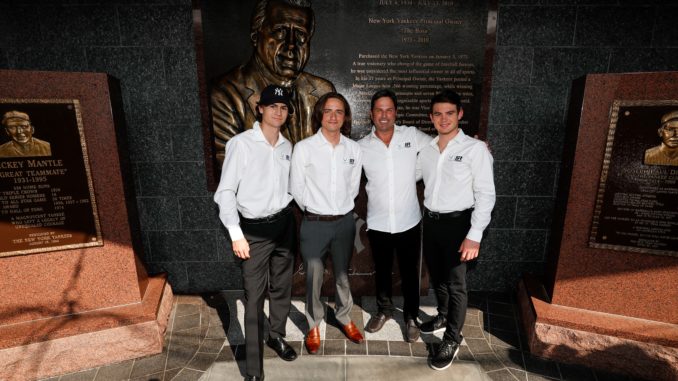 New York, N.Y. (September 19, 2018) A new partnership in open-wheel racing has begun today with the launch of Harding Steinbrenner Racing, a combined effort bringing together current IndyCar and Indy Lights competitors, Harding Racing and Steinbrenner Racing. The new team will field two full-time IndyCar Series entries in 2019 with Freedom 100 winner Colton Herta piloting the #88, joined by newly-crowned Indy Lights Champion Patricio O'Ward in the #8.
"We are happy to announce that Mike Harding of Harding Racing and George Steinbrenner IV of Steinbrenner Racing will join forces in 2019 to become Harding Steinbrenner Racing," said team president Brian Barnhart. "We will be making the move to a two-car team, fulfilling a goal we stated earlier in the year.  We have decided to go all in for the future by hiring two recent stars of the Indy Lights Presented by Cooper Tires series, Freedom 100 winner and Indy Lights Series runner-up, Colton Herta and reigning Indy Lights Series Champion, Patricio O'Ward. We are thrilled with their performance in the 2018 Indy Lights Series in which they ran 1-2 for Andretti Autosport. We are also exceptionally proud to have recently provided them with them their inaugural IndyCar experience at Sonoma Raceway."
Harding Racing, owned by Indianapolis businessman Mike Harding, recently finished its first full season in the Verizon IndyCar Series. Prior to full-time competition in 2018, the team earned a successful ninth-place finish in their debut race, the 101 st Running of the Indianapolis 500 in 2017. This accomplishment confirmed the potential of the Harding team and its desire to be a powerhouse in the motorsports industry.
"The 2018 IndyCar season has been a tremendous learning experience for me," said Mike Harding. "Now I am eager to join with Steinbrenner Racing and create the powerhouse team I know Harding Racing can be. George Michael Steinbrenner IV entered the Mazda Road to Indy with the intent to win, and I believe Harding Steinbrenner Racing will quickly impress the IndyCar paddock too. Let's go racing!"
Steinbrenner Racing burst into the racing spotlight as part of the Andretti Autosport stable after winning the second race of the Indy Lights Presented by Cooper Tires 2017 season. The team finished third in that talent-packed championship with Herta collecting seven podium-finishes. This year, Herta driving for Andretti-Steinbrenner Racing with Curb finished second in the championship with four wins and 13 podiums.
 "I am extremely excited to make the leap into the IndyCar Series," said George Michael Steinbrenner IV, owner of Steinbrenner Racing. "Since I was a kid, it has been my goal to be a team owner in the IndyCar Series and I'm so excited to be doing that with Harding Racing. They are a team that shares our values that they don't want to just be here, but to be a dominant mainstay in the series. That will continue to be our goal as we head into a partnership with a team that shares the same ideals and it makes life a heck of a lot easier. Excited to have two of the best young drivers on this continent and to have them both make the leap into the IndyCar Series at such a young age as teammates with Harding Steinbrenner. We're looking forward to watching as they mature and fight to beat the grizzled veterans in the IndyCar paddock. We're so excited to see where that will lead, how the team can grow, and how we'll compete so we can hopefully vault ourselves to the top of IndyCar pylons."
"I am so thrilled to finally announce the plans for next year," said Herta. "I know it's been a long time coming. After having a good time in Sonoma and dipping my feet into IndyCar, it makes me way more enthusiastic than I was before. This is all possible because of Mike Harding and I want to give a big thank you to the Steinbrenners. There is a lot to do, but I'm ready to get my head down and focus forward for the 2019 IndyCar season."
"If you would have asked me if I was going to be an IndyCar driver last year, I would have told you hopefully, but no," said O'Ward. "It's a chance of a lifetime. I couldn't be in a better position as of now. I'm really thankful for the opportunity that Harding Racing, Mike Harding and the Steinbrenners are giving me. This is something I have been working my whole life for. It's been a very adventurous and enjoyable ride. I've matured a lot over the past two years and I think I'm ready to be strong in the IndyCar Series. We showed some pace in Sonoma and learned a lot. I think it's going to be just as important to learn as much as we can in the beginning of the 2019 season, so we can end the season strong. The car will be fast, and I know the team will give me what I need to do the job. There's nothing better than having trust with the people who are giving you the car because when the car is going fast those extra risks that you have to take are from the trust and confidence form your team."
The 2019 IndyCar season begins March 8-10, 2019, through the streets of St. Petersburg, Florida, for the Firestone Grand Prix of St. Petersburg. Herta and O'Ward made their first starts in St. Petersburg in 2017 with the Indy Lights Presented by Cooper Tires. Herta has one win and two podium finishes and O'Ward has one win and a podium finish at the temporary street course track in an Indy Lights Presented by Cooper Tires car.
About Harding Steinbrenner Racing
Indianapolis based Harding Steinbrenner Racing is led by Indianapolis businessman Mike Harding and George Michael Steinbrenner IV. Brian Barnhart is team president and two-time Indianapolis 500 winner Al Unser Jr. serves the team as executive consultant. Harding Steinbrenner will compete on a full-time basis in the 2019 IndyCar Series with two pilots, Colton Herta and Patricio O'Ward.
About Colton Herta
Colton Herta began racing at the age of four. At 12 he turned to cars and promptly won the Pacific F1600 Series championship and finished second in the Skip Barber Summer Series. The Valencia, California native then moved to Europe to test his talents internationally. He finished third in the British Formula 4 championship in 2015 and third in the Euroformula Open championship in 2016. After returning to the United States, the American quickly impressed by winning the second race of the Indy Lights Presented by Cooper Tires 2017 season. That year he also led the series with seven pole positions, set five new track records and earned Rookie of the Year honors. Most recently, Herta finished second in the Indy Lights Presented by Cooper Tires championship with four wins, three pole positions and 13 podium finishes.
About Pato O'Ward
Patricio O'Ward hails from Monterrey, Mexico. After creating an extremely successful karting resume, O'Ward moved to cars in 2013 competing in the Formula LATAM F2000 Series in Mexico, the Formula Renault 1.6 NEC Junior series in Europe and the Pacific F2000 series in the United States.  He entered the Mazda Road to Indy Series in 2015 finished sixth in that year's Pro Mazda Championship and earning a close second place finish in 2016. Last year, O'Ward won the Championship Prototype Challenge class in dominant fashion with seven victories in eight races including the Rolex 24 at Daytona. He also competed in the first four Indy Lights Presented by Cooper Tires races of the season earning a podium finish in the second event of the year. This year, the 19-year-old won the Indy Lights Presented by Cooper Tires championship by 44 points over teammate Colton Herta. He ended the season with nine wins, 13 podium finishes and set a new series record for pole positions in a season with nine pole positions.