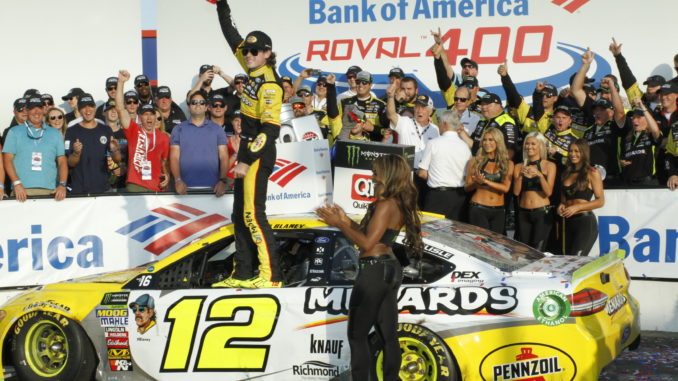 Stage one. Calm.
Stage two. Calm.
Stage three? Not so much.
The Charlotte Roval was full of unknowns heading into race weekend, and one of those unknowns was how drivers would maneuver the chicane in turns 16 and 17 heading to the checkered flag on the final lap. That unknown was answered when Jimmie Johnson, looking to snap a long winless streak and advance in the playoffs, made a desperate attempt to pass Martin Truex, Jr. for the win, but was instead sent spinning into Truex. Johnson would neither win nor advance in the playoffs, while young Ryan Blaney would do both.
"I didn't expect that. Sometimes it's better [to have a little] luck on your side," Blaney said after winning. "We put ourselves in that spot though. I can't thank the [No.] 12 group enough for sticking with it all weekend. That was a long weekend. Tough weekend."
The incident with Truex and Johnson was set up by two earlier cautions late in the race. The first was a caution for Ricky Stenhouse, Jr. with just eight laps to go. On the ensuing restart, race leader Brad Keselowski, and Kyle Larson to his inside, both misjudged the entry to turn one and piled into the tire barriers. The pileup led to other frontrunners Kyle Busch, Paul Menard and William Byron's day ending early.
"The whole field went down into Turn 1, it looked like and we all went straight," Keselowski said on NBC after leaving the infield care center. "Maybe we all overdrove it, or maybe the track had something on it. I don't know. … I got in the corner. I got into it hard, but I didn't feel like I got into it too hard. It just locked up and I couldn't get the tire to unlock. I felt really, really dumb until I got into the care center and saw everyone did the same thing."
Larson, who led 47 laps in the race up until that point, was now heavily damaged in the accident and in a position where his playoff hopes were in jeopardy. The team surveyed the damage following a short red flag and elected to have Larson limp around the track in hopes of picking up a few points.
Larson looked to be one point short of making the playoffs after Johnson's final turn incident until Daniel Hemric and Jeffrey Earnhardt made contact on the final chicane, causing Earnhardt to crash. On the final lap, despite hitting the wall twice, Larson managed to pass the stopped No. 96 of Earnhardt for 25th and tie both Aric Almirola and Johnson for the final two transfer spots on points. Larson and Almirola, based on second- and fifth-place finishes earlier in the playoffs, advanced to the second round while Johnson joined Austin Dillon, Erik Jones and Denny Hamlin as the four drivers whose championship hopes are dashed.
Jamie McMurray, who scored his best finish of the 2018 season, was credited with second while Clint Bowyer, Alex Bowman, polesitter Kurt Busch, Chase Elliott, A.J. Allmendinger, Johnson, Kevin Harvick and Joey Logano rounded out the top-10 finishers.