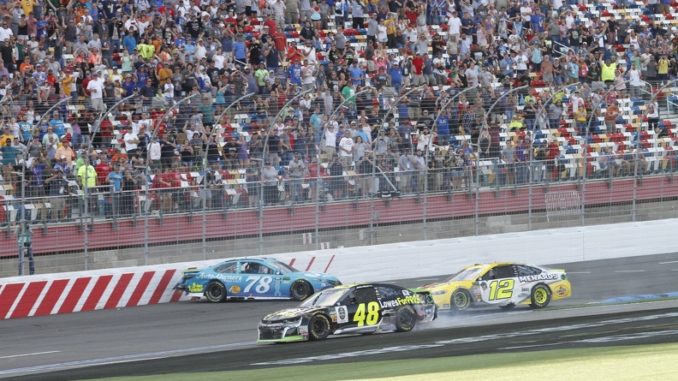 It goes without saying that the debut of the Roval at Charlotte Motor Speedway this past weekend was a huge success. In the months and weeks leading up to the event, there were a significant number of naysayers who expected the Roval to be a huge disaster.
Critics assumed there would be no passing, no "good racing", and that it would be nothing more than a wreck fest. The numerous crashes and destroyed race cars involving very experienced drivers in the practice sessions held at the track only added fuel to the fire.
Fast forward to now, after the checkered flag has fallen on the Bank of America Roval 400, and there is still a considerable amount of chatter about the event, however, it is now almost all positive. Fans are excited, they loved the drama and excitement the race brought, which was enhanced by the intense playoff implications.
We saw, Jimmie Johnson, a seven-time champion, who was easily locked into the next round, go for the win, spin in the final corner, take out the leader, and ultimately fail to make the round of 12.
We saw Kyle Larson drive a car that was severely damaged, bounce it off the wall as he passed a wrecked car for position, stay in the gas to make it to the line to end up tied for the final transfer spot.
We also saw Aric Almirola driving hard, probably the most aggressive we have ever seen from him, trying to pass enough cars to transfer to the next round…. and he made it.
A NASCAR media member compared the significance of this race to the '76 and '79 Daytona 500's. That is a huge compliment.
With all this great excitement and drama, the fan base is pumped. It is exactly what the sport needed.
However, this is a time for caution. While it would be easy to say, "let's make more Rovals!" "Let's put one here, put one there…. this is amazing!" I urge NASCAR to be careful this is NOT what we need. If we add five or six Rovals, they will lose their uniqueness. Just like the dirt track at Eldora, it is special, let's not ruin that. One or two Rovals (Looking at you Pocono!) at most is all we need.
You might say, the race was so amazing, why would we not want more of them? Remember those 1.5-mile tracks that were so awesome for five minutes? How did that work out? Remember how awesome and amazing were the night races? Now they are just another race.
What makes Eldora, and now the Roval, so exciting? It's unique. When Eldora was announced, a lot of people said, "that's crazy". When the Roval was announced…. "that's crazy". Playoffs?.. "that's crazy". What do all these things have in common? They are crazy and unique and they provide excitement. NASCAR should "get crazy", just not Roval crazy, not dirt track crazy. NASCAR should get unique, "Humpy Wheeler" style crazy!
Tracks need to find something special about their facility. What unique, special thing can a facility do to make their event unique? That's what this sport needs. A huge variety of unique events. One or two dirt tracks, one or two ovals, more short tracks with unique shapes and characteristics, speedways with odd shapes and characteristics… that's what would develop and maintain this level of excitement on a weekly basis. Fans are bored. Adding multiple unique events will bring the sport back to life.
So, listen up NASCAR, track owners, promoters…. Let's get crazy!
**The opinions expressed on this site are not necessarily those of the publisher, management or staff. All comments other than website related problems need to be directed to the author. (c)OnPitRoad.com. **
[socialpoll id="2521734″]