NASCAR Announces 2019 Rules Package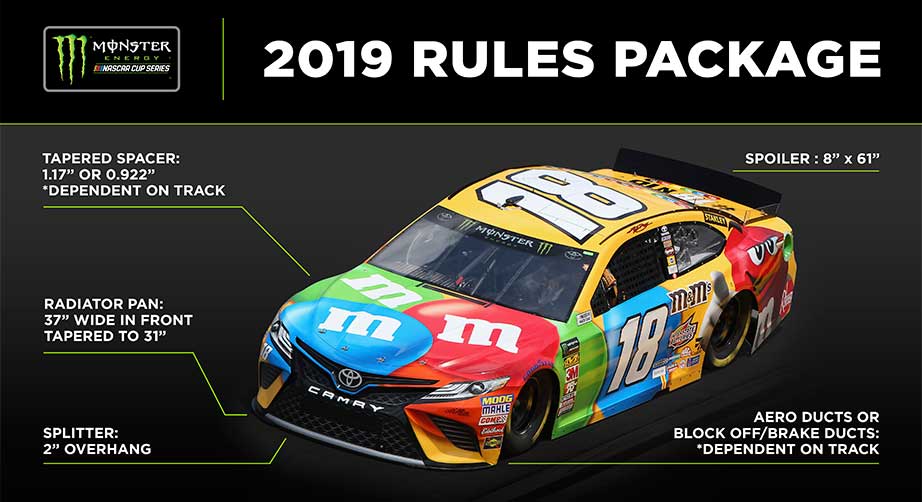 NASCAR announced on Tuesday there will be two baseline rule packages for the Monster Energy NASCAR Cup Series in 2019.
The series will utilize a smaller tapered spacer to reduce engine horsepower from 750 to approximately 550. Cars will also employ aero ducts to promote tighter racing on most speedways measuring longer than one mile.
These new items will be used in 17 of the 36 races in 2019. The Daytona 500, however, will use the traditional restrictor-plate rules already in place.
There will also be five races, Pocono, Atlanta, Darlington, and Homestead, that will be run the new smaller spacer without the addition of the ducts.
Aerodynamic changes include new rear spoiler measurements, 8-inches by 61-inches, a larger front splitter, and a wider radiator pan that measuring 37 inches wide in the front  and reducing to 31 inches at the rear.
Steve O'Donnell, NASCAR Executive Vice President and Chief Racing Development Officer, discussed the changes, "It's really been over a two-year process, working with the race teams, the OEMs, specifically the engine builders and probably the most collaborative effort we've had across all the industry stakeholders, including the drivers, to get to this package. For us, it's really a focus on getting back to a true focus on the drivers and what NASCAR is all about, close side-by-side racing and trying to deliver more of that."