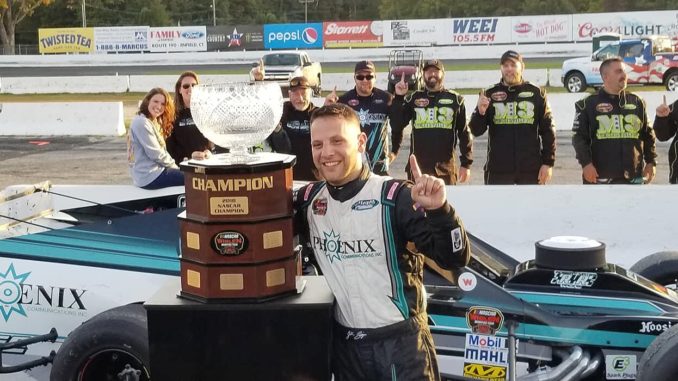 NAPLES, ME (October 2) –If the latest group of entries is any indication, the inaugural PASS Commonwealth Classic at Richmond Raceway is shaping up to be something truly special.  The Pro All Stars Series (PASS) Super Late Models will be one of the headline divisions at Richmond on Saturday, October 20 and will compete for 100 laps and $10,000 to win in the penultimate event of the PASS National Championship series.  Two of Canada's biggest names have pushed the total number of Super Late Model entries to 30.  Quebec's Patrick Laperle and Martin Latulippe are teaming up in a pair of Frameco-sponsored entries as they look to take the big prize back North of the border.
Stock car racing's oldest division, the ground pounding Tour-Type Modifieds, will return to Richmond for the first time since 2002 and are garnering quite a lot of attention.  Hailed as the South's biggest Tour-Type Modified race of the year, newly crowned Whelen Modified Tour Champion, Justin Bonsignore and 5-Time Tour Champion, Doug Coby, have both filed entries as they look to take home the win in this North-South Showdown of top open-wheel talent.  They are joined by fellow Tour driver Blake Barney, as well as Sammy Rameau, Richard Savory, Chris Finocchario, and Riverhead Raceway standout, Kyle Soper.
For Coby, Richmond Raceway is a place he has dreamed of racing.  And, as a graduate of the University of Richmond, it will give the champ a chance to race in front of friends and family that rarely get to see him compete in person.
"Our team put this race on the calendar as soon as we heard about it and I'm really excited for the opportunity to race at Richmond," says Coby, driver of the Mayhew Tools #2.  "We loved coming down south in the past and it seems like Richmond is taking over as the "must-attend" event in the region.  I consider Richmond to be home turf and I want to win that race about as bad as any other on our schedule." 
NASCAR-style Late Model Stocks will also be making their return to Richmond Raceway for the first time in a number of years, and both of the Dale Earnhardt, Jr.-owned Chevys of Josh Berry and Sam Mayer are entered in the Solid Rock Carriers 75 lapper.  Third-generation racer Ty Gibb will be driving for Greg Marlowe, while Virginians Austin Thaxton, Mark Wertz, and Rodney Boyd will be looking to keep the money in the Commonwealth.   Justin Crider and Will Burns are also entered, as well as former Caraway track champion, Ryan Wilson, Concord, NC's, Terry Brooks, Jr., and a strong contingent from the Myrtle Beach area led by Chad McCumbee, Matt Cox, and Chris Throckmorton.
The Limited Late Models and Street Stocks will be completing this great weekend of grassroots racing under the lights at Richmond Raceway.  Virginia's Richard Caldwell, Richard Storm, Doug Warren, Cole Bruce, and Reid Murphy, along with North Carolina's Thomas Chappel have filed Limited Late Model entries.  While Street Stock drivers from Maine to California have entered including Randy Clark, Chris Flowers, Ricky Locklair, Jr., Corey Hutchings, Jim McLaughlin, Cody Demarmels, Jeff Melton, Rusty Blackford, Kenny Green, Chris Finocchario, Robert Divanna, Matt Gain, and Dillon Crouch.
The weekend will begin on Thursday, October 18 with hauler parking and safety inspection for all divisions from 11 AM – 5 PM.  A practice day for the PASS Super Late Models, Tour-Type Modifieds, Solid Rock Carriers Late Model Stocks, Limited Late Models, and Street Stocks is scheduled for Friday, October 19, starting with gates opening and more parking at 7 AM and practice from 10AM – 5 PM.  On Saturday, October 20, practice will begin at 9 AM, qualifying at 1 PM, and features starting at 4 PM with 100 laps for the PASS Super Late Models, 75 laps for the Tour-Type Modifieds and Solid Rock Carriers Late Models Stocks, 50 laps for the Limited Late Models, and 40 laps for the Street Stocks.
Entry forms for all divisions, the complete weekend schedule, and additional information is available at ProAllStarsSeries.com.
Fans can purchase tickets online at RichmondRaceway.com leading up to the PASS Commonwealth Classic or at the speedway the weekend of the event.  And, as an added bonus, fans will be able to access Richmond's brand new, state-of-the-art Fan Zone and watch everything going on in the garage area throughout the weekend with a paid general admission ticket.
The Pro All Stars Series is recognized as North America's premier sanctioning body for asphalt Super Late Models and boasts such marquee events as the legendary Oxford 250 at Oxford Plains Speedway, PASS South's Easter Bunny 150 at the historic Hickory Motor Speedway, and the inaugural Commonwealth Classic at Richmond Raceway.  For technical information concerning all PASS divisions please send questions topassracing@roadrunner.com.  For media or marketing questions, please contact Alan Dietz at 704-231-2039 oralandietzpass@live.com.  And, don't forget to "Like" the Pro All Stars Series on Facebook or follow us on Twitter @PASSSLM14 to keep up with breaking news as it happens.
Richmond Raceway is America's Premier Short Track annually hosting two NASCAR race weekends, featuring the Monster Energy NASCAR Cup Series and NASCAR XFINITY Series, on a ¾-mile D-shaped oval. Richmond is a regional leader for events including sports, live music and consumer trade shows. The Richmond Raceway Complex's 1,000 plus acre multipurpose facility hosts more than 200 live events annually including concerts with top national recording artists at The Classic Amphitheater. To learn more, visit RichmondRaceway.com and richmondracewaycomplex.com.