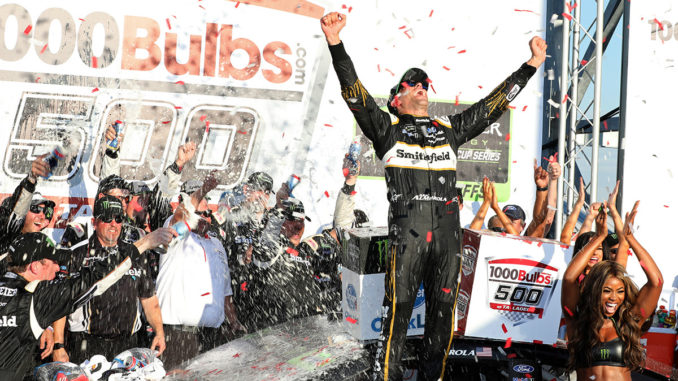 TALLADEGA, Ala. – Aric Almirola claimed a thrilling Talladega Superspeedway victory on Sunday in the 1000Bulbs.com 500 to earn automatic advancement to the Round of 8 in the Monster Energy NASCAR Cup Series playoffs.
Twelve drivers remain in championship contention going into next week's (Oct. 21) event at Kansas Speedway. Post-Kansas, the field will be trimmed to eight, after which three more races will produce a "Championship 4" showdown going into the season finale at Homestead-Miami Speedway. Almirola and Chase Elliott, a race winner last week, have secured Round of 8 berths.
Almirola, driver of the No. 10 Smithfield Bacon for Life Ford, was part of a dominant four-car contingent from Stewart-Haas Racing. Almirola, runner-up Clint Bowyer (No. 14 Cummins/Rush Truck Centers Ford), Kevin Harvick and polesitter Kurt Busch led the field as a tightly packed foursome throughout the afternoon on the 2.66-mile tri-oval, most of the time with an incredibly dominant Busch at the front. Prior to the "OT" the Stewart-Haas drivers had pulled away from the rest of the 40-car field, by 20 car lengths.
NASCAR Overtime – which extended the race's scheduled distance from 188 laps to 193 – was needed because of a five-car, Lap 186 incident initiated by Alex Bowman in Turn 4. Immediately there were questions about whether the Stewart-Haas cars would have enough fuel to last through the caution period lap and ultimately, two more green-flag laps.
Busch (No. 41 Monster Energy/Haas Automation Ford), who led a total of 108 laps, ran out of gas on the final lap while leading the race and finished 14th. Harvick (No. 4 Jimmy John's Ford) ran out prior to the two-lap overtime and came home 28th but retained his lead in the series point standings.
"I really enjoyed leading the race, working with my teammates," Busch said. "I'm really happy a Stewart-Haas car won, but the four of us, I've never seen so much synergy. My team did an incredible job…and we came up a little shy on fuel. Wow, what a car."
Former Talladega winners Ricky Stenhouse Jr., Denny Hamlin and Joey Logano rounded out the top five.
On the final lap coming out of Turn 4, as Busch's car sputtered and slowed, Almirola swept to the outside followed closely by Bowyer. The Tampa, Florida native got his second career Monster Energy Series victory, breaking a 149-race winless streak. His only previous series victory came in July 2014 at Daytona International Speedway. Almirola's season started with a near-win and eventual heartbreak, as he was nudged into the wall on the final lap while leading the DAYTONA 500, by eventual champion Austin Dillon.
"This is so awesome … at Talladega!," Almirola said. "I've been so close so many times this year. Four or five times I feel like I've had a shot to win and haven't been able to seal the deal. To come here, a place that I love … I just love racing at Talladega.
"I came here with the mindset that we were just going to give them hell and if we wreck, we wreck and if we win, we win. And we won! Unbelievable."
NASCAR returns to Talladega Superspeedway on April 26-28 with the ARCA Racing Series presented by Menards' General Tire 200 (April 26), the NASCAR Xfinity Series' Talladega 300 (April 27) and the Monster Energy NASCAR Cup Series' GEICO 500 (April 28). Ticket information for those races and all Talladega Superspeedway events is available online at www.talladegasuperspeedway.com or by calling (855) 518-RACE (7223).