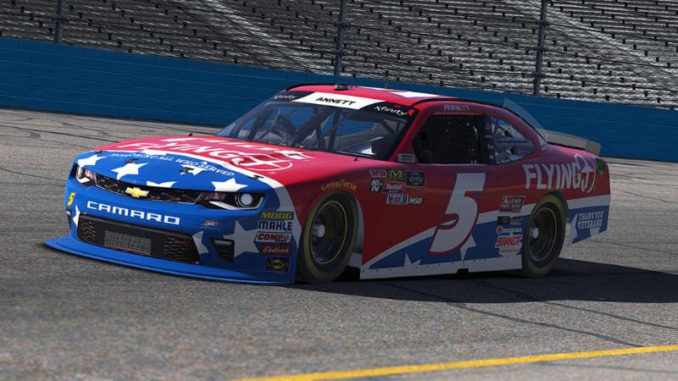 Special Paint Scheme to Run in Three NASCAR Xfinity Series Races
MOORESVILLE, N.C. (October 17, 2018) — The No. 5 Pilot Flying J Chevrolet Camaro from JR Motorsports and driven by Michael Annett will incorporate America's stars and stripes in its livery during NASCAR Xfinity Series races at Texas Motor Speedway on Saturday, Nov. 3, ISM Raceway on Saturday, Nov. 10 and Homestead-Miami Speedway on Saturday, Nov. 17 in honor of Veterans Day.
Founded by a Korean War veteran, Pilot Flying J, the largest operator of travel centers in North America, is proud to serve these brave men and women at retail locations across the United States.
Annett, whose relationship with Pilot Flying J dates back to 2007, relishes the opportunity to carry the red, white and blue in the final three events of the 2018 season.
"This is without a doubt my favorite Pilot Flying J paint scheme and, considering the meaning behind it, I'm honored to sit behind its wheel," said Annett. "When our veterans see the No. 5 on the track this fall, they'll know we're appreciative of their service."
In association with the patriotic scheme, Annett will personally give away three VIP prize packages to these races. Please visit twitter.com/michaelannett for details.
About Pilot Flying J: Pilot Flying J, the largest operator of travel centers in North America, is committed to connecting people and places with comfort, care and a smile at every stop. Headquartered in Knoxville, Tennessee, Pilot Flying J has more than 750 retail locations in 44 states, Roadside assistance available at over 145 locations nationwide and growing as part of its Truck Care program, 44 Goodyear Commercial Tire and Service Centers, and 34 Boss Shops. The Pilot Flying J network provides drivers with access to more than 72,000 parking spaces for trucks with Prime Parking at more than 400 locations, 5,200 deluxe showers and more than 6,200 diesel lanes with 5,200 offering Diesel Exhaust Fluid (DEF) at the pump. Pilot Flying J is currently ranked No. 15 on Forbes' list of America's Largest Private Companies. Visit www.pilotflyingj.com for more information.
About JR Motorsports: JR Motorsports is the management company and racing operation for Dale Earnhardt Jr., NASCAR's 14-time Most Popular Driver and winner of more than 50 NASCAR-sanctioned races. Now in its 17th year of overall competition, JR Motorsports races in multiple divisions, including the NASCAR Xfinity Series where it won championships in 2014 and 2017. The company also competes in Late Model competition and owns four championships in regional late model divisions. To learn more about the organization, its drivers and its sponsorship opportunities, visit www.jrmracing.com.