Martinsville: The Ultimate Agent of Chaos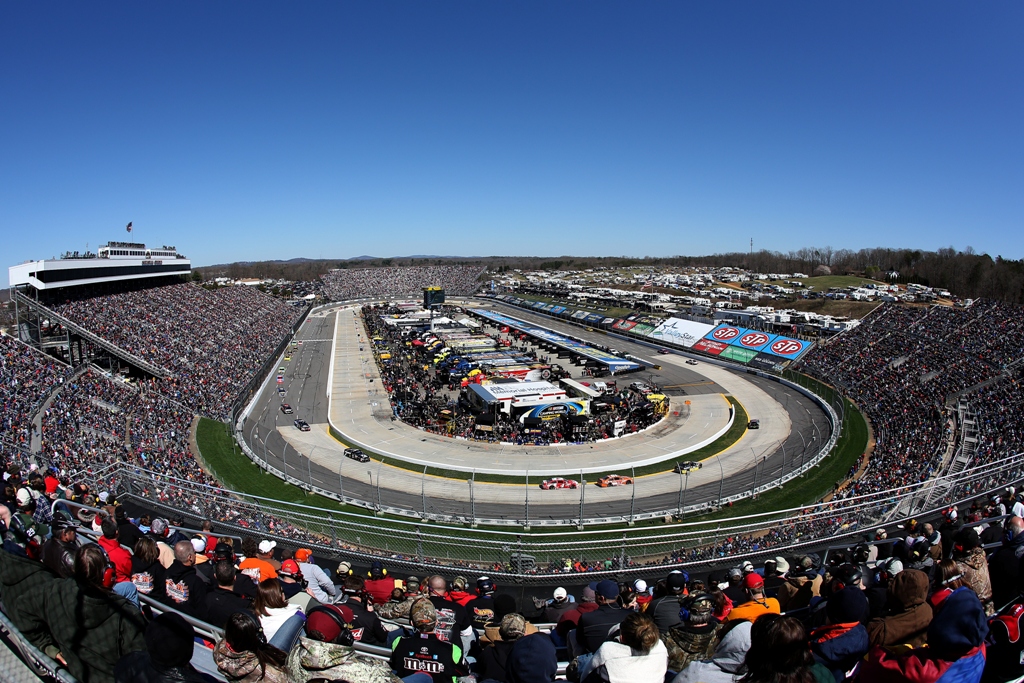 A couple of weeks ago I wrote an article saying that Talladega was being hyped up to be this big wildcard race full of action, crashing, and excitement. I also questioned whether we would actually see that because the past several years during the playoff races at Talladega that just hadn't been the case at all. Then we all know that Talladega did kind of land with a hard thud and didn't provide much excitement. That's not the case with Martinsville. You see, Martinsville is truly the ultimate agent of chaos, the ultimate wildcard race in the playoffs.
We can go all the way back to the first Chase in 2004 for proof. Dale Earnhardt, Jr. came into Martinsville second in the standings only trailing leader Kurt Busch by 24 points. That was back when 24 points was only a few on track positions difference. The 2004 Subway 500 had 17 caution flags on the day with plenty of tempers flaring. Earnhardt had brake problems creep up on him about halfway through the event as he was running in the top ten. Eventually, he had to retire the car to the garage, finishing 33rd. Busch kept his car clean and brought home a fifth place finish. Effectively, this ended Earnhardt's chance at the title and helped propel Busch to the championship.
For the 2005 running of the event Tony Stewart and Jimmie Johnson came into Martinsville tied for the points lead. Greg Biffle was only 11 points behind and Ryan Newman trailed by 17. Mark Martin was in fifth, 51 points off the lead with Roush teammate Carl Edwards in sixth only 54 points behind. This wound up being another race that was plagued by cautions and sent drivers into fits of rage. Stewart and Johnson finished second and third, behind Jeff Gordon who won his first race with Steve Letarte as his crew chief. Of the 10 Chase drivers only four finished in the top ten with Greg Biffle and Mark Martin both suffering blows they couldn't recover from in their pursuit of the title.
Jeff Burton driving the RCR Cingular Wireless Chevrolet led the points by 45 over Matt Kenseth and 89 over Kevin Harvick coming into the 2006 Subway 500. Jimmie Johnson sat way down in seventh position, 146 points off the lead. Burton would lose an engine only 217 laps into the race, finishing way down in 42nd position. Johnson would go on to dominate the race, leading 245 of the 500 laps on his way to victory. This race dropped Burton from first to fifth in the standings and propelled Johnson up from seventh to third. This was a big catalyst in his run to the 2006 title.
Three men were flexing their muscles heading into the 2007 Subway 500. Jeff Gordon had a 68 point lead over Jimmie Johnson heading into the race with RCR's Clint Bowyer in third only 78 points behind. This race had 21 caution flags and saw a gaggle of cars torn up throughout the event. Johnson survived a green/white/checker finish to take home the win. Jeff Gordon ran third and Bowyer came home in ninth. This was one of the few Martinsville fall races that didn't shake things up significantly.
Johnson led the points heading into the 2008 race with a 68 point advantage over Jeff Burton and 89 points over Greg Biffle. Again Johnson showed up ready to race at Martinsville and led 339 laps en route to the win. Greg Biffle finished in 12th and Jeff Burton came home 17th. This stretched Johnson's lead to 149 points and he went on to win the championship once again.
For the next several years the Martinsville races continued to have tons of carnage with 15 to 20 cautions per event. Many times drivers would either make big gains or be all but eliminated from the championship hunt at the "Paperclip."
Then came 2015. A couple of weeks prior to the 2015 race Joey Logano and Matt Kenseth had an incident at Kansas Speedway. Kenseth was leading the race when Logano spun him out and went on to win. This knocked Kenseth out of contention for the title and he wasn't exactly thrilled about the situation. The points reset after the Talladega event with Logano, Kyle Busch, Kevin Harvick, Kurt Busch, Carl Edwards, Martin Truex, Jr., Brad Keselowski, and Jeff Gordon all tied with 4000 points each.
Teammates Logano and Keselowski dominated the early parts of the race. On lap 257, Kenseth bumped Logano out of the groove and took over second position. It was a no harm, no foul type of bump. All three continued to run near the front for the next 100+ laps. Then everything changed on lap 435. Logano and Keselowski started side-by-side on a restart. Kenseth was in fourth position but pushed the issue and actually got to Keselowski's outside coming out of turn two. Keselowski made contact with Kenseth, spinning him into Kurt Busch. Kenseth and Keselowski both had destroyed cars.
Kenseth's crew made repairs to his car as he sat on pit road for several laps. Then he returned to the track and when leader Logano went to his outside to pass him on lap 454 we witnessed one of the most iconic moments in Martinsville Speedway history. Not only did Kenseth drive into Logano's left side door – he speared him into the outside wall, completely eliminating both cars from further competition. Now, I could write an entire article on the events surrounding this and the aftermath but I'll say two things. In my opinion, this led directly to NASCAR's implementation of the damaged vehicle policy going forward and it helped cement Martinsville into being the ultimate wildcard track in the NASCAR Chase/playoffs.
2016's running of the event was tame in comparison with only 5 caution flags in a race won by Jimmie Johnson.
Then last year we had another chaotic event. On a restart with only four laps to go Brad Keselowski chose the outside lane and left Hendrick upstart Chase Elliott the bottom groove. Elliott had a great restart and drag raced Keselowski into turn one holding his own. Then into turn three Elliott slid up the track knocking Keselowski out of the groove and out of contention. Elliott, in a must win situation to advance in the playoffs had Denny Hamlin on his bumper heading down the backstretch with only a few laps to go. Hamlin drove hard into the rear of Elliott's Napa Chevrolet sending him careening into the outside wall, basically ending his playoff hopes.
On the ensuing restart, Kyle Busch put the bumper to teammate Hamlin out of turn three coming to the white flag. Busch passed Hamlin in turn one and held off a hard charging Martin Truex, Jr. for the victory as Hamlin, and about 10 others, crashed across the finish line. After the race Chase Elliott and Hamlin had a few words with one another over the incident that crashed Elliott out of contention. Then, in a bizarre twist reminiscent of Rocky IV, the Martinsville, Virginia faithful turned on their hometown hero Denny Hamlin and cheered Chase Elliott regarding the dispute.
When you look at the fall Martinsville race across the board since the Chase/playoffs began, it has truly been a wildcard. Nearly every year there are championship hopes dashed at Martinsville, and more often than not there are plenty of hot tempers to go around. With cool and damp weather in the forecast this weekend who knows what kind of race we will see. At least we won't have to worry about aero push and clean air for a week. All of the drivers with championship hopes still in tact know that Martinsville can either make them or break them. With stakes high, tempers short, and everything on the line, I expect this weekend to prove once again and without question that Martinsville is truly the ultimate agent of chaos in the NASCAR playoffs.
**The opinions expressed on this site are not necessarily those of the publisher, management or staff. All comments other than website related problems need to be directed to the author. (c)OnPitRoad.com. **