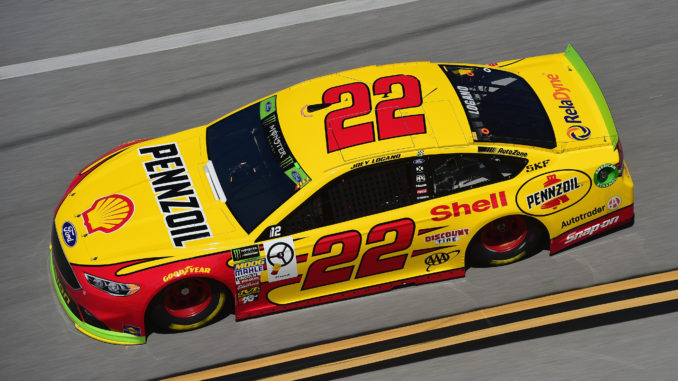 Sunday afternoon Martinsville Speedway brought us an exciting finish which we have come to expect from a short track. Joey Logano and Martin Truex Jr waged a fantastic battle in the closing. In fact, the last 40 laps or so on Sunday was arguably among the best racing we have witnessed all season. Then, to close it out, we saw Truex pass Logano for the lead with just over a lap to go and Logano execute a textbook bump and run to retake the lead out of turn four on the last lap to score the win and advance to the Championship 4.
Beating and banging for position, bouncing of the wall, tempers flaring, and of course the bump and run… this is what we wanted….right? One would expect to see social media light with excitement and talking about how amazing this race was…and to be fair there was some of that, but there was also a significant amount of complaints. Complaints….seriously?
Some fans were outraged that Logano would bump and run Truex after Truex had ran him clean for six laps. Truex deemed a victim and hero, and once again Logano deemed a villain that should be penalized. I'm struggling to understand the logic with this line of thinking.
It was not that long ago that fans overwhelmingly voted in a poll to convince Bruton Smith to alter the race track at Bristol to change it back to "how it used to be". How it used to be was defined as a one groove, single file racetrack that made it difficult to pass. Why did the fans want this? Because they were demanding to see the bump and run. That's what makes it exciting. I even recall a fan being interviewed on local news near Bristol stating "we do not want three wide racing at Bristol. That's not what it's about. It's about bump and run". That's "the game" fans want.
So, fans convinced a track owner to spend millions of dollars to bring back the bump and run, yet this week we are complaining about a textbook bump and run. Makes sense, right?
Perhaps the problem is not the game, but the players. Logano has earned a reputation as a hard racer. He has drawn the criticism from a lot of fans for racing hard and yes, sometimes giving a bump and run. Fans defended Matt Kenseth when he deliberately waited to take out Logano at Martinsville in 2015 ending his championship run. They even complained about the event that started it all at Kansas where Kenseth threw two huge blocks and forced Logano into the wall. Logano bumped Kenseth in response, but fans did not like it.
So, this weekend they scream "you race people they way they race you". Yet, when Logano did that, they complained. So, the common denominator is Logano. Many fans seem to have the impression that Logano is arrogant and entitled. Some rich kid who had everything handed to him on a silver platter. Regardless of how he received the opportunities he had, he still had to perform, and he performed exceptionally well.
Perhaps this perception of Logano and his background explains why the fan's opinion of Dale Earnhardt Sr, who was famous for bump and run, wrecking someone to pass, and intimidating other drivers, is completely different. Earnhardt Sr is hailed as superhero for doing exactly what Logano is being vilified for. Here we are 18 years after the death of Earnhardt and we still see decals of the iconic "3" on vehicles. The difference? Earnhardt was a blue-collar racer. Many fans could identify with him. He worked a typical job and raced on the weekends, eventually working his way up to NASCAR's highest level. They do not have this perception about Logano. So, it's the same game, but a different player.
There's a reason NASCAR uses video footage of '76 Daytona, '79 Daytona, and that famous Kurt Busch-Ricky Craven slugfest from Darlington, for promotional advertising. That reason is -that's what fans want. That's what makes them want to attend and watch. That's "the game" that is desired. They just want ONLY their favorite driver to be the one winning the game.
**The opinions expressed on this site are not necessarily those of the publisher, management or staff. All comments other than website related problems need to be directed to the author. (c)OnPitRoad.com. **