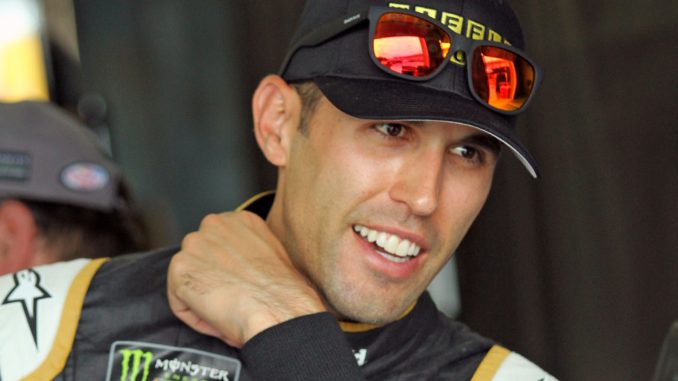 In the closing laps of the AAA Texas 500 at Texas Motor Speedway on Sunday, Aric Almirola found himself in near the front of the pack hoping the improved track position would provide him the opportunity he needed to punch his tick to the Championship 4. On the restart, however, Almirola's No. 10 Ford Fusion slipped in turn three while racing side by side with Joey Logano.
When Almirola slipped up the track, he made slight contact with Logano and ultimately lost several spots due to the lost momentum. We saw this same thing happen all day in many other situations when cars were racing alongside other cars. Almirola immediately came on the radio complaining about Logano. At first, I assumed this was a heat of the moment comment and he would have a different opinion once the race is over. I was severely disappointed.
Not only did Almirola not change his opinion, he doubled down. "We were a third-place car and that restart there where we finally were in position we fought all day from the back and started at the tail and worked diligently all day to get up to the front and finally got ourselves in position to at least have a shot and race with those guys," said Almirola. "The 22 just went down in turn three and put it right on my door and about wrecked us both. I am not sure. I will have to talk to him. He just continues to make things harder on himself. If that is the way he wants to race me when he is already locked into Homestead and we are out here fighting for our lives, that is fine. When Homestead comes around if I am not in, he will know it."
If this were not bad enough, the pit road reporter asked a follow up question about just how far he may take it against Logano at Homestead. Almirola responded, "I will just make it really difficult on him. He made it really difficult on me today which was really unnecessary. He could have run fourth, fifth, 11th, it doesn't matter. He is still going to go to Homestead and race for a championship, it is just not smart."
Seriously Aric?? He could have simply taken a fourth, fifth, or eleventh? Evidently, Almirola feels if another driver is already locked into the next round, that driver should simply pull over and let him go. That is not how racing works. Every driver in the field is fighting for the best finish possible, regardless of that driver's situation.
The whole point behind the creation of stage racing was to inspire better racing. Fans have been begging NASCAR for years for better racing. They want to see drivers giving 110% percent every lap of every race. Not to mention the companies that spend millions of dollars to see their driver and car putting forth their best effort.
How would Smithfield feel if Almirola had just moved over and let other drivers pass because in the last round since Almirola was already locked in? If I were the marketing director or CEO of Smithfield, I would be quite upset.
I'm not sure where this new mentality of "he raced me too hard" or "he already has his so he should LET me have mine" came from, but it needs to go away immediately.
The Monster Energy NASCAR Cup Series is the premier stock car racing series in the world. These are supposed to be the 40 best drivers on the planet. Almirola expecting other drivers to give him charity has absolutely no place in the highest level of racing. If that is his expectation, he is in the wrong series.
**The opinions expressed on this site are not necessarily those of the publisher, management or staff. All comments other than website related problems need to be directed to the author. (c)OnPitRoad.com. **