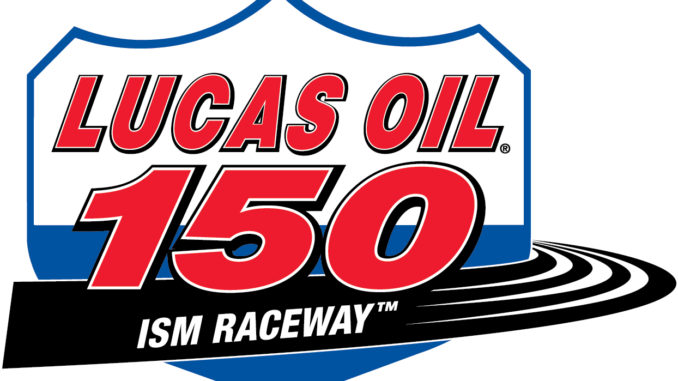 Sheldon Creed, No. 2 United Rentals / A. M. Ortega Chevrolet Silverado
Phoenix Stats
This will be Creed's first NCWTS start at ISM Raceway.
2018 Season Stats
3 starts, Best Finish: 15th (Eldora)
Notes:
– Making his third NCWTS start with GMS Racing this weekend, Creed will race chassis no. 310 in his debut at ISM Raceway. The No. 2 team utilized this chassis one other time this season, at Charlotte Motor Speedway, with Cody Coughlin.
– For his first NCWTS race at ISM Raceway, Creed's No. 2 Chevrolet Silverado will carry longtime supporter United Rentals. A.M. Ortega will remain featured on Creed's truck, as well as newly added Team Chevy.
Quote:
"I've never been to ISM Raceway as a driver, only as a fan to watch. For me, the new track layout will be considered 'normal' since I've never raced there. While for other guys, they'll have to adjust to the changes. I think I have that on my side before we even get on track. I'm just going to go in with an open mind and hopefully we're fast.
"I know that restarts were always a big place to gain positions in past races at Phoenix. That may change now with the new start finish line, but I personally love restarts. I feel like that's one of my stronger suits. I'm really looking forward to seeing how Friday night's race plays out."
Johnny Sauter, No. 21 ISM Connect Chevrolet Silverado
Phoenix Stats
9 starts, 1 win, 5 top-fives, 7 top-10s, 1 pole
2018 Season Stats
21 starts, 6 wins, 14 top-fives, 16 top-10s
Notes:
– Sauter will run GMS chassis no. 313 at ISM Raceway, the same chassis raced to the win at Martinsville Speedway two weeks ago. In total, Sauter has run this chassis four times this season, earning two wins and four top-fives.
– Last year, Sauter won the Lucas Oil 150, his first win at the 1-mile track.
– Sauter continues to lead both the driver and owner point standings and is already locked into the Championship Four in Miami, alongside teammate Justin Haley.
Quote:
"ISM Raceway is a track that I really enjoy going to and I can't wait to see the improvements that have been made. Winning there last year was very special, not only because there was finally a sense of accomplishment, but because it was important to have that momentum leading into Miami. I think the new configuration with the start-finish line moving will be interesting. You'll see some guys really using up the entire track and some that are content to find their line and stay there, trying to stay out of trouble. Either way, it'll be a great race and a really exciting weekend for our friends at ISM Connect."
Justin Haley, No. 24 Fraternal Order of Eagles Chevrolet Silverado
Phoenix Stats
2 starts, 1 top-10
2018 Season Stats
21 starts, 3 wins, 9 top-fives, 17 top-10s
Notes:
– This weekend at ISM Raceway, the No. 24 team will unload chassis no. 314, one of the best in their GMS Fabrication fleet. Haley has raced this chassis two previous times in 2018, first at Gateway Motorsports Park where he qualified fourth and captured his first career NCWTS win. He later ran chassis no. 314 at Pocono Raceway where he qualified third and raced to a fifth-place finish.
– With his win at Texas Motor Speedway, Haley has locked himself into the Championship Four of the NASCAR Playoffs to run for a NCWTS championship in Homestead with GMS Racing teammate Johnny Sauter.
Quote:
"The new track configuration and pit road at ISM Raceway is pretty insane now. I was in the Chevy simulator a couple weeks ago prepping for this weekend's race at Phoenix. I did the first five laps, came in and was giving the engineers feedback on the truck. After a few minutes the engineers told me that my feedback didn't match up with the data they had pulled. They had to remind me that Turns One and Two were the new Turns Three and Four, and vice versa. You don't think about that kind of stuff in the truck though. I've already talked with my crew chief, Kevin Bellicourt, and we're going to reference them as big corner and little corner so there is no confusion throughout the day. I think that aspect is going to be a big unknown though for everyone, especially on restarts and how aggressive you can really be. No one knows what exactly to expect.
"The good news is the actual track didn't change at all, just the start finish line moving. We brought a really fast Fraternal Order of Eagles Chevy to Phoenix last year and hopefully this year we will have the same speed when we unload."
Tyler Dippel, No. 25 Alesso Chevrolet Silverado
Phoenix Stats
This will be Dippel's first NCWTS start at ISM Raceway.
2018 Season Stats
3 starts, Best Finish: 13th (Eldora)
Notes:
– The No. 25 team will utilize GMS chassis no. 018 at ISM Raceway for Dippel's third start with GMS Racing. This chassis has been raced once this season, by Timothy Peters, at Martinsville Speedway (start: 9th / finish: 10th).
– Dippel's Chevrolet will feature Swedish producer Alesso and his latest single "Remedy". After opening for Madonna on her 2012 MDNA tour, Alesso's ascension was sped up with the success of 2014's "Heroes (We Could Be)" featuring Tove Lo. He reached no. 1 on Billboard's US Dance Club Songs and no. 11 on the Top 40. It was certified Platinum in the US. He has also moved fans at the biggest festivals music has to offer like Coachella, EDC, Ultra, and Tomorrowland. He and Hailee Steinfeld released "Let Me Go" with Florida Georgia Line and Watt; reaching no. 9 on the US Hot Dance/Electronic Songs chart and cracked the US Billboard Hot 100.
– Also on the #25 Chevy Silverado is 10:22 pm, a new label created by Celine Joshua under Universal Music Group (UMG), the world leader in music-based entertainment. The label is charged with signing and developing recording artists, social media influencers and digital media creators with a focus on creating multimedia content and advancing new forms of storytelling.
Quote:
Tyler Dippel: "We're getting better each week, so I'm looking forward to getting out to Phoenix and making my first start at ISM Raceway. Jerry (Baxter, crew chief) and I have spent a lot of time talking about what to expect and I have the benefit of never having raced on the old configuration. Hopefully, that plays into our hands, especially on restarts where the other guys will have to adjust to that change. I really appreciate this No. 25 team sticking behind me and preparing fast trucks each week. I expect it won't be long before we're able to come out with a top-10 finish.
"I'm excited to have Alesso and Remedy on our Silverado this week. It's great when music and racing can come together. To be able to partner with someone who has had so much success is really special."
Alesso: "Music, very much like sports, brings people together. It's a universal language and powerful tool in life. Shots Studios has mastered cross-pollination in many aspects, including sports, and is always open to exploring unique opportunities.
"It's always been my passion to create music that reaches and connects with everyone all over the world. Being from Stockholm, racing has always been big in Europe and it's neat to be able to experience NASCAR here in the US and support young athletes chasing their dream. We wish Tyler all the luck and hope he continues to have the Remedy for long-term success in his career."
ABOUT GMS RACING
GMS Racing competes full-time in the NASCAR Camping World Truck Series with drivers Johnny Sauter, Justin Haley, Sheldon Creed and Tyler Dippel, and in the NASCAR Xfinity Series. Since the team's start in 2014, GMS Racing has grown to occupy several buildings located in Statesville, N.C. The campus also includes operations for GMS Fabrication.
SOCIAL MEDIA
To keep up-to-date with the latest news, information and exclusive content, follow GMS Racing on Facebook, Twitter, and Instagram.