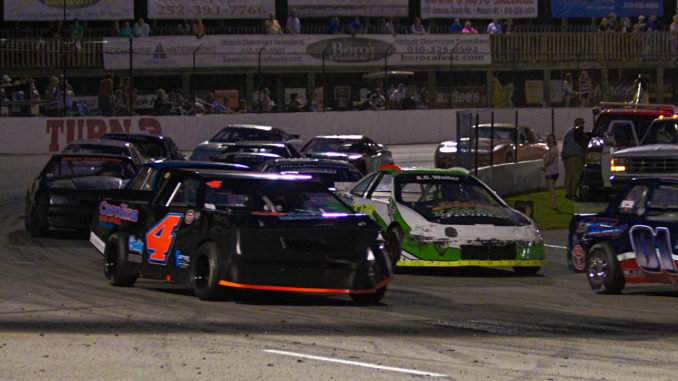 SWANSBORO, NC – Carteret County Speedway will host its final event of 2018 with the 4-Cylinder Nationals on Saturday, November 17th.  The event will honor the military and first responders and feature Carteret County's strongest division in its biggest race.
The 4-Cylinder Nationals are headlined by a 100 lap, $2,000-to-win Mini-Stock feature race.  In addition, Mod-4, Legends, Mini Cups and Champ Karts will all be in action in the Nationals, which goes green at 6pm on November 17th.
Active duty and retired military, as will as first responders (fire, police, EMS) will get $5 off general admission tickets.  Festivities will get underway at 3pm with a live performance by national recording artist Steelshot in the Moonshiner'Z as qualifying and heat races take place on track.  At 5pm, the pre-race meet and greet will get underway, giving fans the opportunity to meet the drivers.  Additionally, the All Veterans Parachute Team will fly into Carteret County Speedway during the pre-race show.
"We are excited about racing one more time this season," Carteret County Speedway track owner Bob Lowery said.  "We always love to honor our military and first responders.  At Carteret County Speedway, we continue Bobby Watson's tradition of honoring military.  Here, we honor God, country and racing."
Racing will then get underway at 6pm with the Carolina Mini-Stock Challenge's 4-Cylinder Nationals.  Mini Cups will race first for 15 laps, then Legends will compete for 30 laps.  After that, the Last Chance Qualifier will be run for the Carolina Mini-Stock Challenge.  Mod-4 will race for 30 laps after that, then Champ Karts for 15 laps and the final event will be 100 laps for the Carolina Mini-Stocks.
"The Mini-Stock division has been the strongest division in terms of car count this season and it's awesome to see them be the headline race of our season finale," Carteret County Speedway public relations manager Andy Marquis stated.  "The Mini-Stock division keeps growing and often times, fans leave the track feeling like they put on the best show of the night.  The Legends division has also put on thrilling races all year.  Every race should be a good one on November 17th."
The 2018 season has been the strongest season to-date at Carteret County Speedway.  During the year, the CARS Response Energy Tour visited the track for the first time.  Carteret County Speedway also hosted the $15,000-to-win Solid Rock Carriers 150 as well as a big Legends race during the Labor Day Classic.  The strong season was made possible both by Bobby Watson's vision and the support of Kirk Ipock at Solid Rock Carriers, along with numerous other sponsors and the fans and drivers who supported the track all season.