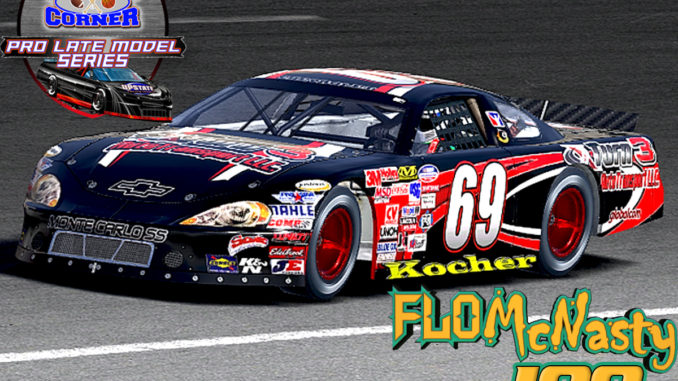 Last Thursday the Upstate Racing League Coach's Corner Pro Late Model Series stormed into the Irwindale Speedway for the FloMcNasty_TV 100 after three long off weeks.  Last season's Most Improved Driver Award winner Shawn Cool would start from the Rumar Vinyl Creations Quick Time Pole position, with Blake Near to his outside.
Cool would fend off hard charges from Near over the race's opening circuits.  Third place starter AJ Hamel would throw his number 18 Toyota Camry into the mix for the lead, but unfortunately on lap eight Near would squeeze Hamel into an opening sending both cars into the wall hard.  Both drivers would continue on as the yellow did not come out.  The contact allowed Jake Watson and Kris Stump to move up to second and third, respectively.
Cool would continue to lead as a new driver would emerge within the top five.  Justin MacDuff, the winner of the season opener at Iowa and ninth place starter on the evening would work his way into the top five and make quick work of Stump and Watson to move into second.  MacDuff would then go on to erase Cool's lead and work to his inside to try to take over the top spot.  Cool would not make it easy on him, but his best proved to not be enough as MacDuff took the lead over on lap twenty-three and set his sights on two wins in a row.
Enter Sandman.  Defending series champion Matt Kocher began to pick his way through the field and as the race clicked past halfway Kocher set his sights on the number 20 of MacDuff.  On lap sixty-nine, Kocher would take over the top spot and set sail.  Kocher would not look back, and in a race that was not slowed by any cautions Kocher would pick up his first win of the season over MacDuff, Stefan Marinak, Kris Stump, and Jake Watson in the top five.
After two races, Justin MacDuff leads the Art's Barber Shop Points Standings over Matt Kocher by just three points.  Andy Lambert holds the final Chase position by three points over Shawn Cool with eight races remaining before the regular season finale.  Kris Stump leads the Brian Rogers Motorsports Rookie of the Year Standings by six points over Andy Lambert.
Next week, the series heads to the Southern National Motorsports Park for the Hanson's Starter Shop 100.  Coverage begins at 9PM EST on MaxSpeedTV with group qualifying. Will someone new find their way to victory lane?  Find out next Thursday night!
FloMcNasty_TV 100 at Irwindale Official Results: 1. MATT KOCHER,  2. Justin MacDuff,  3. Steph Marinak,  4. Kris Stump,  5. Jake Watson,  6. Shawn Cool,  7. Blake Near,  8. James McIntyre Jr.,  9. Brad Carpenter,  10. Will Drevicky,  11. Al Smith Jr.,  12. AJ Hamel,  13. Brian Rogers Jr.,  14. Andy Lambert,  15. Dillon Canova,  16. Josh Mayeu,  17. Rex Hoyle,  18. Mark Royer,  19. Jeremy Line-Watkins,  20. Brett Bartels,  21. Wayne MacDuff III,  22. Paul Henley,  23. Thomas Mitteer II,  24. Danny Dubuque,  25. Guillaume Fortin,  26. AJ Childs
DNQ:  Mike Holtsclaw,  Matt Roll,  John Mignacca,  Jeremy Carpenter,  Scott Naslund,  Doug Wysocki,  Jay Dubuque,  Tony Rice
Provisionals: Alex Orians,  Bryan Hacker