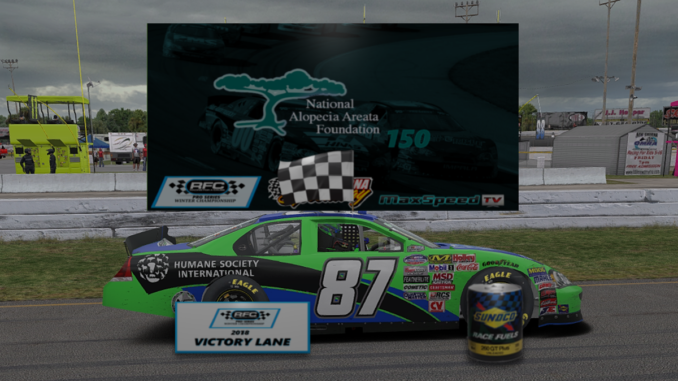 The K&N Pro Series Winter Championship kicked off the 2018 schedule tonight with the running of the National Alopecia Areata Foundation 150 at New Smyrna Speedway.  24 cars entered the event with Ricky Hardin earning the pole by .005 seconds over Shawn Cool.
Hardin jumped to the lead early, controlling restarts as the race was slowed often after a 13 lap stint to start.  Cautions bred cautions and the majority of the first half was run under yellow. On lap 62, 3rd place starter and recently crowned RFC late model champion Kris Stump finally worked his way by Hardin and took over the top spot.  The halfway yellow was thrown after a 10 lap sprint to lap 75. Everyone dove to pit road for 4 tires.
Stump maintained the lead on pit stops and continued to lead as the race headed towards 20 to go.  There were a lot of battles throughout the top 10 as the high lane was preferred by most. At one point 3rd through 9th were under a blanket battling.  With 15 to go the leaders came up on a pair of cars trying to stay on the lead lap. Contact between the Stump and the end of the lead lap car caused a yellow flag and knocked Stump from the lead!  The beneficiary of the contact was double digit RFC race winner and 2 time late model champ Ryan Nolin. Nolin's return to full time RFC action saw him work his way up from his 10th place starting position to the lead and 15 laps later, the win!
Stump held on for 2nd with RFC's first late model champ Steve Baker in 3rd.  Baker picked his way through the field from his 15th place starting spot to get the season off on a good note.  Will Drevicky made his RFC debut and came home 4th. Pole sitter Hardin held on for 5th.
There was one unclaimed caution that occurred when a couple of lead lap cars tried to bypass a lapped car at the exit of turn 2.  After review, the Driver's Council voted the yellow to 2x K&N champ Dustin German. German was assessed a 10 point T1 penalty for the unclaimed yellow.
Teams will have a week to hammer out the sheet metal before traveling to Bristol next Wednesday for the OnPitRoad.Com 125!