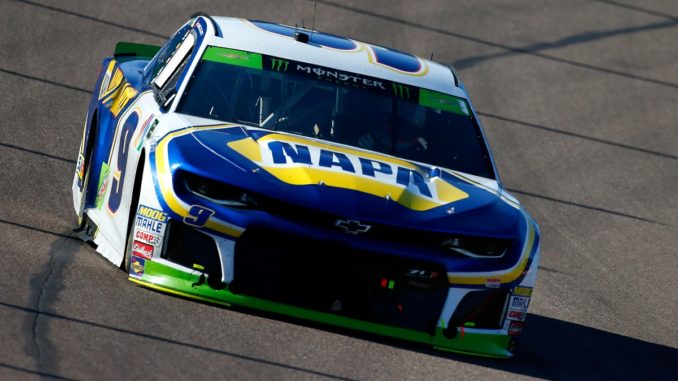 Chase Elliott arguably had one of the fastest cars at ISM Raceway on Sunday. Unfortunately for Elliott, it was a little too fast on pit road. In the late stages of the race, Elliott appeared to be good shape for a shot at the win, a win he needed to advance to the Championship 4 at Homestead. The No. 9 NAPA Chevy was strong on long runs, and the circumstance were playing out in his favor.
On a late race restart, however, Denny Hamlin's car got loose and slid up the race track into the No. 41 of Kurt Busch. In the aftermath, several cars were damaged, including Elliott. The crash also ended Busch's day and any chance for a second title.
Earlier in the race during a pit stops, Elliott was penalized for speeding on pit road. It was this penalty, to which Elliott attributes him being at the wrong place at the wrong time.
"Yeah, don't speed before that and you don't get caught back there in the back. It was completely my fault and when you make mistakes like that, you get put behind and that's when you get wrecked", said Elliott. "So, I had a pretty good NAPA Chevy, especially on the long runs. We could run with those guys. I couldn't get going quite as good as I wanted to. But if you stay away from that penalty (speeding on pit road) you never know. I hate it, but we'll try to get a win next week."
The 2019 season has been a success for the young driver from Dawsonville, GA. He has scored three wins and 20 top-10 finishes. He is also considered to be the favorite to win the Most Popular Driver Award. Elliott's goal now, is to maximize in final points position.
"I mean I feel like we had an opportunity today and didn't make the most of it. Yeah, definitely could have been worse for sure, better than my first two, but we still finished fifth in the points last year, so it would be a good goal to try to shoot for next week", said Elliott.
The season finale for the Monster Energy NASCAR Cup Series will be held Nov. 18 at Homestead-Miami Speedway.
[socialpoll id="2526647″]