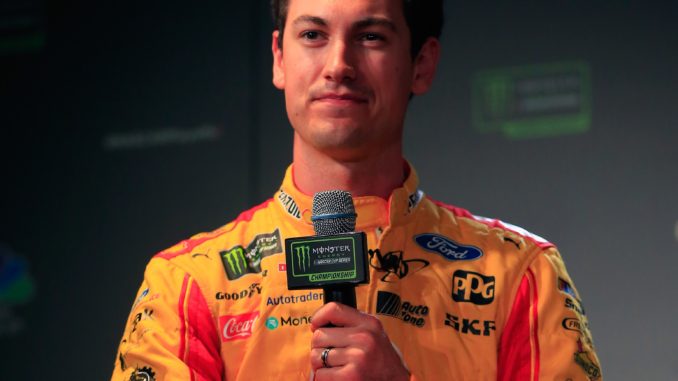 Arguably one of the biggest stories this season has been "The Big Three" – Kevin Harvick, Kyle Busch, and Martin Truex Jr.  The trio earned the moniker due to their dominating performances in 2018. The three former champions have combined to score an impressive 20 wins this season. That equates to a staggering 57.1% of the total races completed.
On Sunday, Logano must battle and beat The Big Three in order to win his first championship. Competing against the three strongest teams in the sport, who also happen to be former champions, would be a daunting task for anyone. Logano, however, remains confident.
"Like you said, it's the big three and me, you're right.  I think, honestly, you have to have that confidence.  I'm sure everyone here has the same amount of confidence and feeling that they are the favorites for whatever reason it may be", said Logano.  "I'm sure it's all probably different.  For us, I feel like, you know, we've been able to overcome a lot this season and build a lot of momentum, have an amazing playoff up to this point, scoring a lot of points, leading a lot of laps, especially the last few weeks, not only on short tracks, but Kansas we had a great running with the pole.  Miami is a little bit different, but it is another fast racetrack similar to that. So, I feel like our team's in a great spot.  Our pit stops have been amazing lately.  The confidence is in not only myself as a driver, but in our whole race team all the way through all of Team Penske.  So, we're ready to get to Sunday and see what happens."
Logano's confidence has developed more recently. Earlier in the season, Logano felt his No. 22 Penske Racing Team was not even a championship caliber team. Now, however, he looks forward to fulfilling his role of spoiler.
"It sure is the plan, right?  All season long, the big three have been talked about so much this year earlier in the season.  They've won so many races and so many stages and led so many laps.  Honestly, I guess maybe it was 15, 20 weeks ago, we weren't in the championship caliber that we needed to be to be able to compete with them", said Logano. "Now, I will say since that time we are.  I feel like we do have what it takes to compete with them and give them a run for their money.  Like I said, it's the big three and me.  I might be the underdog on the stats standpoint, but we sure don't feel like we are."
If Logano is able to accomplish this enormous feat of beating The Big Three, could Logano's name be added to the conversation about the greatest drivers of this era?
"Honestly, does it put you in the same realm?  I guess it could. Championships, it seems like, in sports is what stacks you up against the greatest, and we've been in the position ‑‑ this will be our third time racing for a championship, and we haven't made it happen yet", said Logano. "We definitely, I think, the more championships you have, the more you rank, I think, in our sport and in all sports."