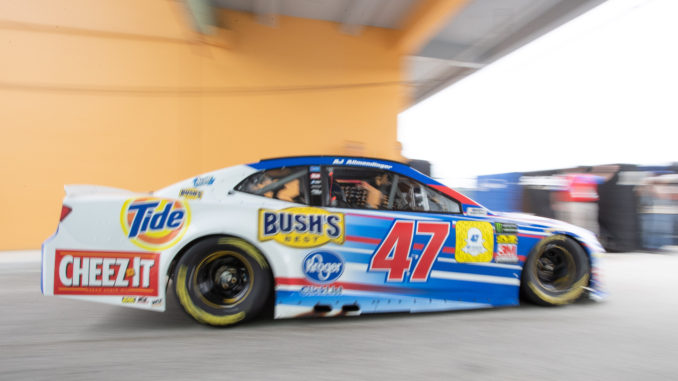 Every year at Homestead-Miami Speedway, there are a variety of news stories that take over the weekend. From championships being decided to drivers finishing up with teams to driver retirements. One name that's been quietly under the radar is A.J. Allmendinger, who is likely starting his final race as a full-time driver today.
It was announced at the end of September that Ryan Preece was joining JTG Daugherty Racing for the 2019 season, replacing Allmendinger in the No. 47. The move left Allmendinger without a ride for next season.
As this year's silly season continued, drivers were announcing their moves for 2019; new teams, new series, new sponsors. One name that didn't come up at all was A.J. Allmendinger.
Then, on Saturday night, Allmendinger took to Twitter, acknowledging that Sunday's race could very well be his final race as a full-time NASCAR driver, and possibly as a full-time motorsports racer. 
1) On the eve of what quite possibly could be my last full time race in auto racing I cant help look back and thank the people that have made my career what it has been. @paultracy3 for giving me an opportunity in karting to make a bigger name for myself and push me to the next

— AJ Allmendinger (@AJDinger) November 18, 2018
8) We wish we could go out on our own terms. Not always do we get what we want. But with that said I have been so blessed. So lucky and fortunate. No regrets. Cant wait for what the future holds. And especially cant thank all of my fans and supporters enough. U have made it great

— AJ Allmendinger (@AJDinger) November 18, 2018
Before coming to NASCAR, Allmendinger enjoyed a successful career in both open-wheel racing, managing a five-win career in CART.
In 12 years racing in the Monster Energy NASCAR Cup Series, Allmendinger has scored 11 top-fives, 57 top-10s but only one win, which came at Watkins Glen International in 2014. In this time, he's driven for Red Bull Racing, Michael Waltrip Racing, Gillette Evernham Motorsports, Richard Petty Motorsports, Team Penske, Phoenix Racing and his current team, JTG Daugherty Racing.
While in the past Allmendinger has always been able to find a new ride each time he lost his previous ride, it seems this time there may not be a spot for him, at least not full-time.
Michael Shank, a friend of Allmendinger who has often put him in one of his sports cars for the Rolex 24 Hours of Daytona, alluded over Twitter that Allmendinger may have a spot with him in IMSA, adding that they'll be "talking soon."
What you have accomplished in all forms of racing is off the charts.. But listen your not done yet… Can't be..Ill b talking to u soon my friend!!
Much Love!

— Michael Shank (@MichaelShankRac) November 18, 2018