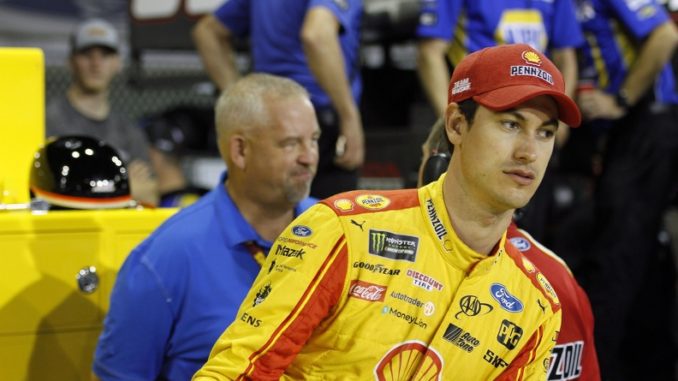 Brett Moffitt and Tyler Reddick both came into this weekend as dark horses. They were dark horses for the championship in their respective series, and neither had ever won a championship in one of NASCAR's top-three series. Moffitt left Homestead-Miami Speedway as the NASCAR Camping World Truck Series champ and Reddick the NASCAR XFINITY Series champ.
Today, it's Joey Logano who is the dark horse.
He's going against the "Big Three"; a term coined earlier this season to describe Kevin Harvick, Kyle Busch and Martin Truex, Jr., the three drivers who have dominated the Monster Energy NASCAR Cup Series this year with a combined 19 wins. Today, he unlike the other three, is going for his first series championship.
And while Logano may be the dark horse based on the season he's had, Logano has the experience to win the championship. He's paid his dues.
In 2014 while racing for the championship at Homestead, a mishap on pit road when the No. 22 car fell off the jack cost Logano a shot at the championship with less than 20 laps remaining in the race. He pounded the steering wheel in frustration, and rightfully so. The pit road mistake dropped him from a very real championship opportunity to fourth in the standings.
Just two years after the frustrating end to a title run, Logano ran second in 2016 to Jimmie Johnson at Homestead after what was again looking like a likely championship until contact with Carl Edwards.
Fast forward another two years and you see Logano, an underdog, who may be turning into the favorite.
Since getting to Homestead this weekend, Logano and his No. 22 crew has showed wicked speed. While he qualified fifth, only third best of the Championship 4, it's his long-run practice speeds that proves he's a serious contender. In both of Saturday's practice sessions, Logano had the fastest 10-lap average in race mode.
When it comes to the race, Logano's undoubtedly going to be fast, but this team will have to minimize their mistakes. It's been their downfall in the past, and it very well could again be their downfall this afternoon.