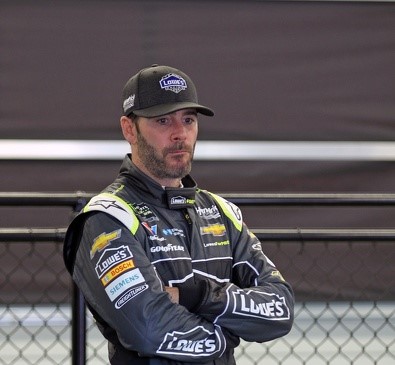 2018 was not a typical Jimmie Johnson season. He closed out the 2018 season with a 14th place finish at Homestead-Miami Speedway. For the first time in his career since competing full-time in the series, he went winless. He also finished 14th in the final standings, the lowest position of his Cup career.
Johnson is a seven-time Monster Energy NASCAR Cup Series champion. In 615 starts, he has tallied 83 wins, 224 top-fives, 352 top-10's, and 35 poles. Even more impressive than these statistics is the fact that he accomplished this with the same team, same sponsor, and the same crew chief, a fact that, in the opinion of many, solidifies this group among the best ever.
This year's poor performance is compounded by the fact that his career long primary sponsor, Lowe's, announced it would not return in 2019. Most recently, Hendrick Motorsports announced Johnson would also have a new crew chief as Chad Knaus has been reassigned to work with William Byron and the No. 24 team.
Johnson admitted this was the toughest season ever and understands there is a lot of work to do. "That is… in my Cup career that is probably the most difficult year that I have had. I can look back at some other years where I had different challenges of not having a sponsor or maybe not having a ride and dealing with adversity there", said Johnson. "As far as having a fully funded high-qualify ride, that was… '18 was by far the toughest. 2015 was pretty tough, but this was still tougher than that. Especially, to work through the decision to go separate ways with Chad (Knaus) that was probably… early in the year, kind of mid-season when we made that decision and working through that scenario wasn't easy. Just glad to finish with a respectable result today, but we've got a lot of work to do as a company. I've got a lot of work to do with my new team, we've got a lot of work to do with this new package and we've got to come out stronger."
Driver-Crew Chief relationships are all about chemistry. It is that special something that the duo either has or it doesn't. There have been "super teams" put together in the past. Top drivers with top crew chiefs and they were expected to dominate. Many times, however, they do not succeed due to lack of chemistry. Johnson and Knaus had that chemistry.
As the long tenured driver/crew chief relationship comes to a close, Johnson discussed what it was like to know this was the last race with Knaus. "Yeah, especially pre-race. Getting bolted in the car, kind of our routine through the different steps there, the reality of today setting in. During the race you just kind of get back in the rhythm of things and just raced along, but I made sure we had a cooler of beer just to have one quick beer with the guys and Chad and a big toast to say thank you."
It will be a whole new look for the seven-time champion in 2019 with a new sponsor, and a new crew chief atop the pitbox. Fans will have to wait and see if the chemistry is there to bring this champion back to glory.