Joey Logano is Your 2018 Champion – Like it or Not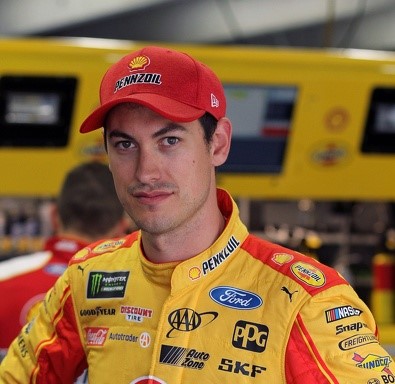 As we put the 2018 NASCAR season to bed and start counting down the days to the 2019 campaign one thing is already abundantly clear: some people absolutely won't accept the fact that Joey Logano is your 2018 Monster Energy NASCAR Cup Series Champion. I have one thing to say to you people – get over yourselves.
It doesn't matter whether you dislike the guy, don't respect the guy, think he's a scrub, whatever your issue is – the simple fact remains that Joey Logano won the 2018 NASCAR Championship. You can stick your fingers in your ears and do the boo-boo face all you want. That doesn't change the fact that Logano went to Homestead, took care of business, and brought home the trophy.
I've saw enough "Not my Champion" memes to last me for a good long while at this point. Also we have the bellyaching about him not winning enough races and the people pointing out that Logano wouldn't have won the points in the old NASCAR format. Both of those arguments are without merit.
First of all, and correct me if I'm wrong, but didn't all of the NASCAR drivers and teams know the points structure heading into the season? Did I miss something? Did they go to Homestead and spin a wheel that determined how they were going to crown the champion that day? The old, Spin the Wheel, Make the Deal gimmick? Of course not! They knew how the game was played heading into the season. Logano and his No. 22 Penske team played within those rules and won. It's that simple.
I also don't care what anyone says about the "old" rules system. Drivers race a certain way knowing the rules that are in place. If they were racing under the old system they would have raced much differently throughout the season. Just because your computer tells you that Logano wouldn't have won the points under the old rules has absolutely no validity. If you know that the races would play out much differently had they been using the old system then why even try to make an argument like that? Oh right, because Joey Logano is, "Not my Champion!"
There's been many times in NASCAR's long history that the guy that many think "should" have won the Cup didn't come home with the trophy. Bill Elliott had a tremendous 1985 season winning 11 out of the 28 races on the schedule. But, he finished second in the standings behind Darrell Waltrip who just won three times. Waltrip was more consistent and had more top five's and top 10's than Elliott, beating him by 101 points. I'm sure many fans were not happy that Waltrip won the title despite Elliott's stellar season. But, they all knew the rules and how the point system worked and that's just the way it played out.
By some people's logic Dale Earnhardt probably shouldn't have won nearly as many Cup Championships as he did. His first title in 1980 saw Cale Yarborough win more races than Earnhardt. In 1986 Tim Richmond had more wins. In 1991 Davey Allison and Harry Gant both had more wins. Heck, in 1993 Rusty Wallace won 10 times to Earnhardt's six but Earnhardt still managed to beat Wallace by 80 points. I guess Dale Earnhardt – during those years – was also, "not your champion?"
It's fine to have favorite drivers in the garage area and it's even fine for you to really not like certain people for your own reasons. But, at the end of the day, you can't just pick and choose and say that Joey Logano doesn't deserve to be the 2018 NASCAR Champion just because you don't like the guy. There were many years as a young fan that I may not have liked the Cup Series Champion but that didn't make him any less of a champion just because I didn't like him.
Kevin Harvick, Martin Truex, Jr., and Kyle Busch all knew what they had to do in order to win the 2018 NASCAR title at Homestead this past weekend. All three of those guys gave it a valiant effort but came up short in the end. You know what? That's ok! We can't all have our favorites win all the time. If NASCAR had allowed Logano any special treatment then you could maybe argue that he isn't deserving but the fact is that every single team and driver knew the points structure heading into the season and everyone had the same shot. Logano just rose to the occasion and took home the big trophy.
Joey Logano is your 2018 NASCAR Monster Energy Cup Champion whether you like it or not.
**The opinions expressed on this site are not necessarily those of the publisher, management or staff. All comments other than website related problems need to be directed to the author. (c)OnPitRoad.com. **