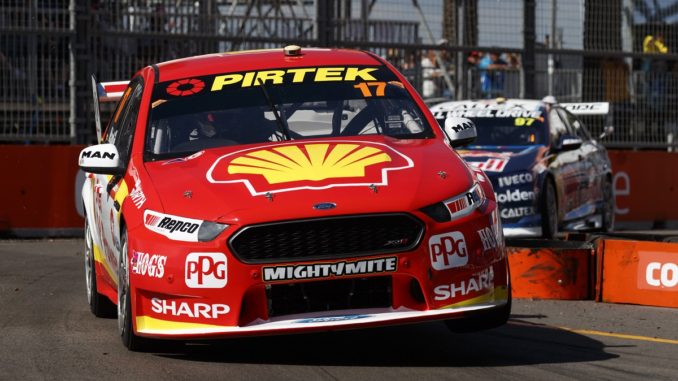 Scott McLaughlin buried the demons and claimed a maiden Virgin Australia Supercars Championship on the streets of Newcastle.
The memories of a disastrous final race at the Coates Hire Newcastle 500 this time last year are gone, with a comfortable second in the closing race of the 2018 season.
The young Kiwi withstood intense pressure and a spotlight on him to beat compatriot Shane Van Gisbergen, the 2016 Champion, in what was a largely eventful race compared to last year.

Click image to download photos from today's Coates Hire Newcastle 500.
Often dubbed the next Craig Lowndes, McLaughlin also secured the first title for American co-owner Roger Penske, who bought half of the Shell V-Power Racing team with Dick Johnson three years ago.
The affable youngster let a flying David Reynolds past him in the closing stages for second ahead of Jamie Whincup who was some 12 seconds further down the road. Van Gisbergen came home fourth, 71 points in second on the Championship table.
"I have to pay respect to Shane, we raced hard all year. It was a hell of a battle," McLaughlin said. "It was the longest 10 laps of my life. I am absolutely amazed. I just can't believe we have done it."
McLaughlin had a bigger buffer than he expected after Van Gisbergen was penalised overnight for a pit lane breach, with 25 seconds docked from his Saturday victory, which dropped him from first to fifth. That meant the overall lead changed from two points to 53.
In the end the penalty made no difference with McLaughlin finishing ahead of Van Gisbergen, the scenario he needed, even with a two-point margin.
McLaughlin ensured he was in front of Van Gisbergen with a second place in the ARMOR ALL Top Ten Shootout behind Erebus Penrite Racing's David Reynolds.
He assumed the lead from Reynolds at the first pit stop with Van Gisbergen unable to make any real headway a few places behind him.
McLaughlin caught the back markers midway through which momentarily halted his charge and put him in danger of getting caught up in an accident. As a result, his team pulled him in straight away for his second and final pit stop.
From there, aside from letting Reynolds by, it was plain sailing.
Van Gisbergen did all he could but was never pushing to get near McLaughlin.
"We did everything we could," Van Gisbergen said "Congrats to them, they are worthy Champions as is Scotty. I have enjoyed the fight and working with these guys all year. Still gutted, but okay."
Race winner Reynolds said he was not going to let McLaughlin off lightly had he not moved aside.
"I had a mega car out there," Reynolds said. "I could see him to start to slide and I thought to myself 'if he's smart he will let me go'. I was lining him up for a crack regardless. He has done a great job all year and it couldn't go to a better driver."
Even Whincup, who snatched the title from McLaughlin last year, had to applaud the Champion.
"After last year he certainly deserved it."
Prior to the race there was a fitting tribute by fans, drivers and teams alike, with a guard of honour set up to farewell the great Craig Lowndes, who raced for the final time as a solo driver today.
Everyone was on their feet applauding the Supercars great as he walked down pit lane and led the field to their final grid of 2018. For the record, Lowndes finished the race in eleventh.
FOLLOWING RACE 31 – COATES HIRE NEWCASTLE 500
  1st – David Reynolds (Holden)
2nd – Scott McLaughlin (Ford)
3rd – Jamie Whincup (Holden)
  1st – Scott McLaughlin (3944 points)
2nd – Shane van Gisbergen (3873 points)
3rd – Jamie Whincup (3433 points)
Click here for full results and current championship standings.