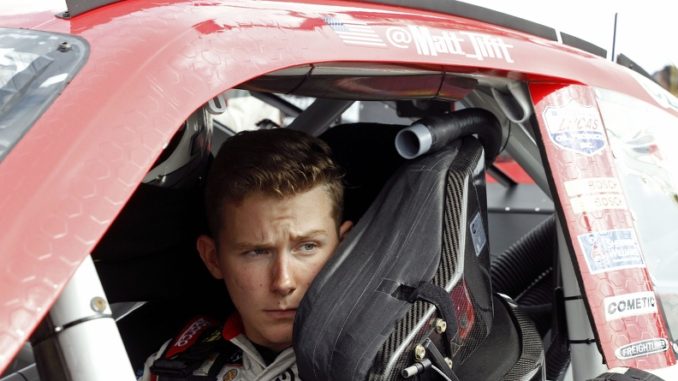 Two former NASCAR XFINITY Series teammates will be going head-to-head for the Monster Energy NASCAR Cup Series rookie honors next year as Matt Tifft announced today he will be joining Front Row Motorsports in a third car next season. Tifft joins Daniel Hemric who previously announced his intention to run for Rookie of the Year driving for Richard Childress Racing.
"Today is a huge moment in my career, announcing my move to the Cup series," said Tifft. "This has been a dream of mine since I was a kid, and I can't believe it's finally coming true.
Tifft, who finished sixth in this year's NASCAR XFINITY Series points standings, will drive a third Front Row Motorsports car as teammate to veteran drivers Michael McDowell and David Ragan. He'll compete in the team's No. 36 Ford Mustang.
"I'm so thankful to Front Row Motorsports for giving me the opportunity to drive the No. 36 next season. I'm looking forward to guidance from veterans Michael McDowell and David Ragan and am ready to take on the challenge of driving with 39 of the best drivers in the world."
Since moving to full-time status in 2009, Front Row Motorsports has managed to win two races in that time period, one of which came with current driver Ragan. Team owner Bob Jenkins plans on continuing the trend of growing his team.
"We've made it clear in recent years that it was our intent to continue to invest in NASCAR and expand to a three-car team," Jenkins said. "Not only are we here to stay, we're here to grow.
"We already have two proven veterans in our line-up, and now we'll get to add an impressive young talent and championship contender who will inject some new energy into the group. With the introduction of the Ford Mustang into the Cup Series, 2019 is shaping up to be an exciting season for us."
Tifft is expected to compete in 2019 with the charter previously used by BK Racing that the team bought during the 2018 race season. Additional sponsorship and a crew chief announcement are expected at a later date.