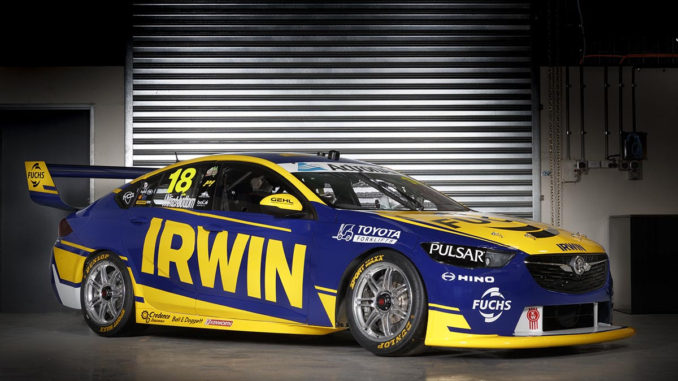 At today's reveal at the team's Mount Waverley Garage, Winterbottom, Steve Richards and Charlie Schwerkolt uncovered the 2019 Livery surrounded by the team's valued sponsors.
IRWIN's iconic classic blue and yellow will return to the Supercars arena with returning Team 18 sponsors Fuchs, Hino Australia, Toyota Material Handling Australia, GEHL Construction Equipment, Pulsar, Kenworth, Credence Insurance, Ball & Doggett, Waverley Forklifts, P1 Racegear, PPG, Bolle Safety, High Sierra and OzWide Joinery and new sponsors ActronAir and Barry Bourke Holden.
"I love the livery! It's great to see a good-looking car full of great sponsors that has a lot of credibility on it with national and global companies," Winterbottom said of the impressive livery.
"To see IRWIN back in the sport and on the doors is really cool and having some blue on the car is a nice transition for me, to be in a Holden for the first time it kind of makes it feel a bit closer to home."
"The reveal is another exciting announcement as we start to get to the business end of February and there is no doubt that the IRWIN Racing livery won't get mistaken on track which is great for all of Charlie's partners," Richards said.
"It's now time to get Frosty and the IRWIN Team on track and get some laps under their belt before the Championship kicks off in Adelaide.
"I can't wait to be there alongside them the whole time."
"Our new livery is bold and bright, it really stands out," Schwerkolt said of his team's new livery.
"The car is really clean and its striking appearance should standout exceptionally well on TV.
"There have been plenty of guesses around our new livery prior to the launch, none quite captured what we have achieved.
"There is nothing complicated about the car and I think it will be one of the sharpest cars in pit lane."