Should Cup Drivers be Allowed to Compete in Lower Divisions?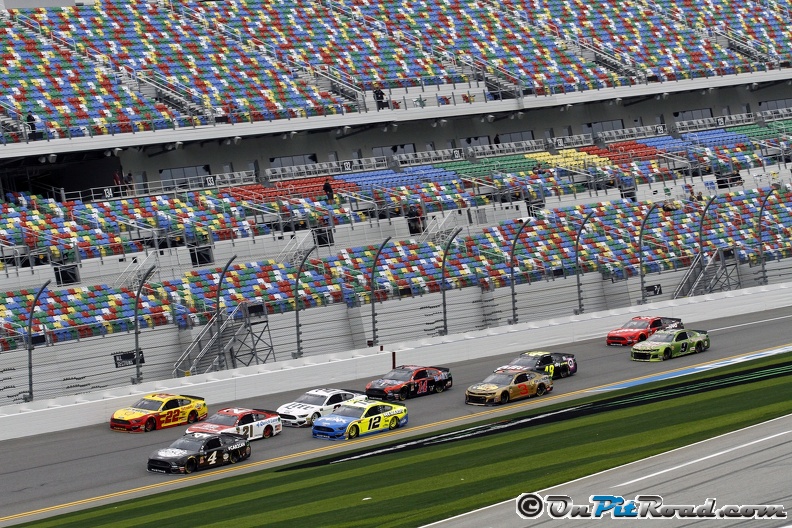 This past Saturday Kyle Busch became the winningest driver in the NASCAR Gander Outdoor Truck Series after taking the race at Atlanta Motor Speedway. The win allowed him to surpass Ron Hornaday with 52 victories.
It brings up an interesting question that keeps popping up every year. Should drivers be allowed to compete in more than one series at a time? Almost immediately, I heard fans complaining about Cup drivers competing in the Truck race.
Some fans will tell you that allowing drivers to cross series lines, especially Cup drivers competing in lower divisions, take opportunities away from younger drivers looking to move into the upper echelons of NASCAR.  Years ago, it was possible to win titles in more than one division. NASCAR then looked to limit things and drivers had to choose which division they want to accrue points in. They could compete in other divisions, but they would not earn points in that division.
In 2017, NASCAR started limiting the number of races a cup division driver could compete in at a lower level.  Drivers with five years of Cup experience were limited to 10 Xfinity and seven Truck series. Last year, NASCAR made it even tighter, limiting those drivers to seven Xfinity and five Truck races.
But if you ask the Xfinity and Truck drivers, a vast majority of them welcome the opportunity to race against the best drivers on the NASCAR circuit. It gives them an idea of what to expect to experience on the track when and if you make it up to the Cup Series. They also gain valuable experience learning first hand on the track the talent of those drivers. It also brings out the best in them knowing they are competing against a Cup driver.
Imagine the Yankees playing games against minor league teams. The minor league players are going to play harder just for the chance to beat the best team in the history of the sport.
Personally, I'm okay with Cup drivers crossing lines downward as long as the limitations are in place so that they aren't competing full-time in both series. I do want to see younger drivers gain experience and move up to the next division when the time is right.
I'd love to hear your thoughts on topic: Should cup drivers be allowed to compete in Xfinity or Truck series races?