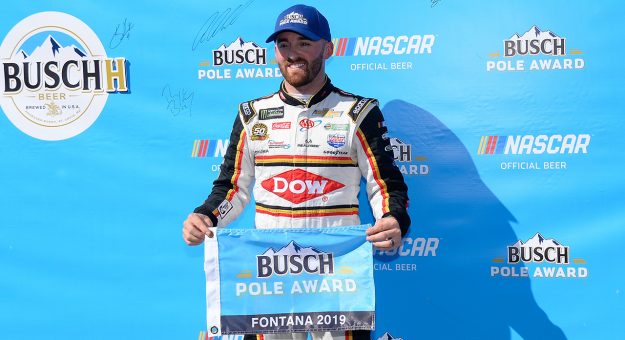 A strange turn of events in the final round of qualifying for the Auto Club 400 at Auto Club Speedway allowed Austin Dillon to pick up the pole despite not posting a lap in the round.
Much like the other 11 drivers in the third round of qualifying, Dillon waited too long into the five minutes allotted to run for the pole, and was unable to post a time. Dillon had the fastest lap in the round prior, allowing the driver of the No. 3 Dow Coatings Chevrolet Camaro to take his first pole of the season, and second at this track overall.
"That was fun right there. That goes back to Round 2 when (spotter) Andy Houston did a great job getting us a hole," Dillon said.
"Our car has been good all day. I felt like we had the fastest car here. It feels good to get that pole. That was wild right there. Everybody was fighting for it.
Rounding out the top-10 starting spots by virtue of the second round of qualifying are Kevin Harvick, Aric Almirola, Kyle Busch, Joey Logano, Denny Hamlin, Ryan Newman, Chase Elliott, Clint Bowyer and Ryan Blaney.
Full Auto Club 400 starting grid