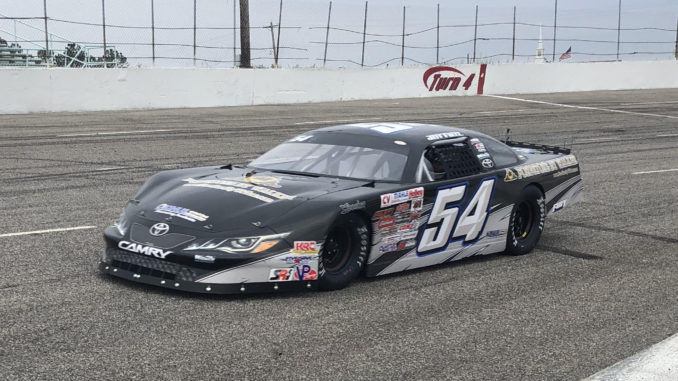 MOORESVILLE, NC (March 14, 2019) — For the second time this season, Fury Racecars' Jeff Fultz has a so-called off-weekend he has chosen to spend at a racetrack, behind the wheel. He will be piloting the No. 54 Furniture By Walker Toyota from Chris Walker Motorsports this weekend in the Rattler 250 at South Alabama Speedway.
Nearly a decade ago, Fultz ended the Rattler weekend in victory lane. For the veteran racer, it is something he loves attempting to duplicate.
"The Dykes family does a great job with the track, and they're great people and we love going down to help support their event," he said. "It's a track I really love racing on, one where you can charge the corner and drive the heck out of the car. It's really one of my favorite tracks and I think we should have fun this weekend."
Although Fultz's day job is in the shop running the operations of Fury Racecars, this is a chance for him to enjoy time with his friends. Despite the laid-back nature of everyone involved in this Walker Motorsports outing, the competitor in the Ohio native always comes out.
"This is fun for us," he said. "We're just a handful of guys going down to have fun. We don't have any big team resources or professional crew guys. These are my lake buddies who I drink beer with and sometimes we go racing when all of our schedules match up. This is one of those times. But don't get me wrong, I still want to run well and have a shot to win.
"A few years ago, when I won that deal, they wanted to put that snake on my shoulders and I told 'em no way, keep it at arm's length to take the photo and get it out of there; I hate snakes," Fultz continued with a smile on his face. "Of course, at my age, if we win this thing again I might ask them if it bites and how long before it takes effect. I might just be willing to risk going out on top!"
The Walker Motorsports team has pulled off the feat of victory before, nearly one year ago when they debuted together at Myrtle Beach Speedway in the CARS Super Late Model Tour. Nearly a year after that triumph, they are hungry and searching for more success while also building their driver development program.
"We went to Cordele to shake the car down for the Rattler and the car was great," Fultz said. "It took me about three laps to get into a groove and get comfortable. It's just unfortunate we had a tire issue during the race which we couldn't overcome, but the car did everything we asked it to do and I think it should be fast this weekend. I've always had fast cars there, just things breaking or bad luck happening late in the race. Hopefully that doesn't happen this time."
Official on-track activity for the Rattler 250 weekend kicks off on Friday with rotating practice and local features. Saturday's schedule includes additional practice time and qualifications with last chance races if needed. At 2pm CT on Sunday, the Rattler 250 takes the green flag for 250 laps of racing around the half-mile layout.
For more information on Walker Motorsports or their driver development program, visit their website at ChrisWalkerMotorsports.com, follow them on Facebook (@ChrisWalkerMotorsportsInc), Twitter (@CWMTeam), and Instagram (@WalkerMotorsports).
Driver Jeff Fultz can also be found on various social media including Facebook (Jeff Fultz Racing), Twitter (@JeffFultz) and Instagram (@JeffFultz).