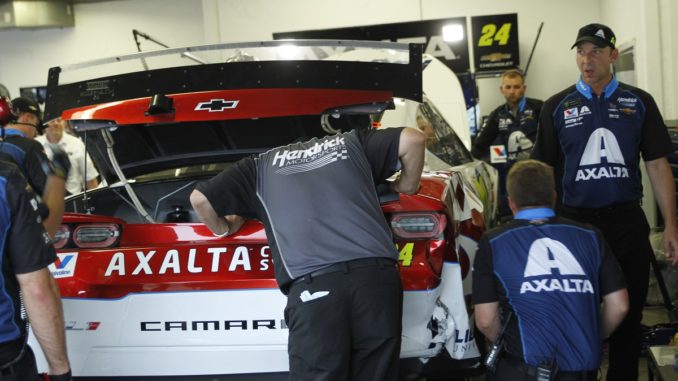 On Thursday, during NASCAR Monster Energy NASCAR Cup Series practice, Brad Keselowski and William Byron made contact. Byron lost control of his No. 24 Hendrick Motorsports Chevrolet sliding down onto the apron. Byron managed to save the car but suffered some damage due to the contact. Byron will start a backup on Saturday.
After the incident, reporters asked Keselowski about the incident. Keselowski responded, "I had a big run and [Byron] put me in a position where I had to lift, and I keep telling these guys I'm not lifting.  I hate it for his team that they have to work on their car and so do ours, but just trying to send a message that I'm not lifting."
Keselowski also mentioned that he had been wrecked out of four of the last five plates races, and that he is changing is driving style to prevent it from happening further.
There is history between Byron and Keselowski. In this event one year ago, Byron blocked Keselowski. When Keselowski lifted to prevent hitting Byron, he was turned from behind and his car was destroyed.
Byron recalled the previous incident, but also stated he was clear and free to drop down in front of Keselowski in this incident. "I was in the lead last year and he was second and I guess he thought I threw a block," said Byron. "I thought I was clear there [Thursday], which obviously I was, but he just decided to drive into the left rear."
[socialpoll id="2557266″]