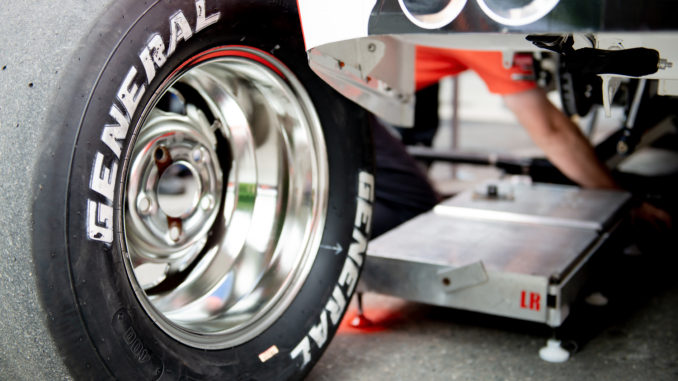 Since the inception of the NASCAR Pinty's Series in 2007, the series has had only one tire supplier in Goodyear. That changed in 2019 with the introduction of a new partner, General Tire, and it's a welcomed relationship, if you ask Alex Tagliani.
"We can push [the tires] much further to get a good lap, it's quite nice," Tagliani told OnPitRoad.com on Friday. "Before, we were limited. You can't do anything. With these tires you can brake deeper, throw the cars into [the corners.]"
Tagliani likened the old tire from Goodyear to a much harder rubber, and says the new tire is more race-able.
"The Goodyear tire was very hard side-wall. Very hard compound," he said. "People made many comments in the past [comparing them to a] hockey puck. When you were coming out, it was really difficult to put heat in them and soften the carcass of the tire. When you were coming out cold, it was literally on ice."
One thing the 8-time race winner really enjoys about the new General Tire is the wear that comes with it. It isn't just a tire that you can go out, run a full race on and not conserve.
"The tire also has a higher degradation, and I'm for that," said Tagliani. "Every tire manufacturer when they come into a series is afraid to play with the tire [degradation] because you have drivers saying 'oh, the tire was degrading.' It doesn't matter, though. We all have the same tires. We're not competing against another brand of tire. In the world of racing, a tire is supposed to be a race tire.
"Having a tire for 100 laps [isn't what you want.] This isn't rental go-karts, this is racing. I think all the elements of this particular tire are there to provide good racing and interesting qualifying. In the race you have to manage them."
Tagliani says it was noticeable from the get-go at the series opening race that the new tire was an improvement from the old one.
"We were anxious to receive them. Practice in early May at [Canadian Tire Motorsport Park] we saw this was the tire we needed."
Another important thing for racers is a tire manufacturer that can create a good rain product, a factor that may come into play at the Pinty's Grand Prix of Toronto with a chance of rain on raceday.
"I also think in the past we didn't have a proper rain tire. We had a slick that was grooved by hand," he explained. "Later on, I think one year before the contract was over with Goodyear, they made a mold out of that and then created a tire like that. A slick tire with slick compound with groove, it looked like an intermediate tire on a Formula 1 car. It looked nowhere near a tire with rubber-walls and soft compound. It was not that great.
"This new tire might not have the water evacuation on the side, but the compound is very, very soft. We never had a proper soft-wear for rain. If it ends up raining I think it will be better than what we had in the past."