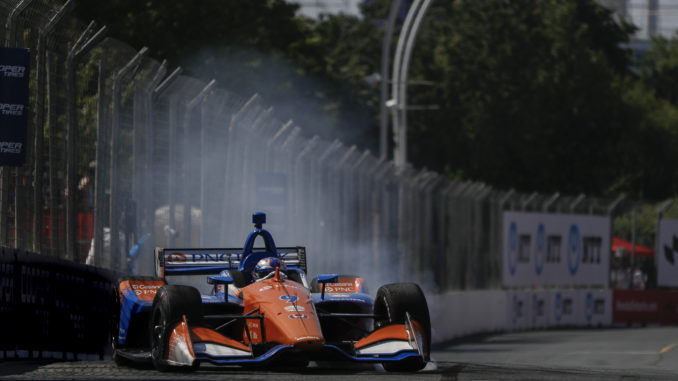 The talk each year at the Honda Indy Toronto tends to revolve around turns nine, 10 and 11; the final three corners of the track. They're slick, fast and often force drivers into a fishtail. This year is no different.
Alexander Rossi, who has been fast all weekend, has also been struggling a lot with the final three turns of the track. He's found himself making contact with the wall multiple times throughout practice and qualifying, testing the limits of his car.
"I think Turn 11 is always hard," Rossi said on Friday. "I don't think it's any different this year. I just think we saw probably a few guys trying quite hard there, and yeah, today is the day to try it. You don't want to make these mistakes tomorrow or Sunday, obviously, so you can get a little bit more adventurous with your lines and experimentation to see if something works, and obviously I found a few things that didn't work, and hopefully we don't find any more."
Multiple drivers over the weekend have found themselves in clipping the wall outside of turn 11, proving to be a hazardous place.
Felix Rosenqvist and Sage Karam are both making their first NTT IndyCar Series starts on the Streets of Toronto. Both have past Indy Lights experience in Toronto, but the track has changed a lot since they've been on the circuit.
For Karam, it's a totally new configuration.
"[Turns] nine, 10 and 11 are the sketchiest sections for everybody, especially me not ever driving it before. I'm learning there. I'm not on the limit at all yet," Karam told OnPitRoad.com. "I'm probably losing three to four tenths to the fastest guys. I'm pretty comfortable everywhere else.
"The only other place that's kind of iffy is turn eight right before pit lane. It's really bumpy under braking. You can lock the tires pretty easily. If you miss it by just a little bit, the tire barrier's right there or you choose to go in the run-off. If you do that, you'll lose a ton of spots. That's a corner where you can push for risk and get a high reward, but the hardest part for me is finding what's too much to push. I'm just trying to figure it out slowly."
"It's kind of you get into the corner, you don't really see what the heck it is," said Rosenqvist. "It all looks the same, so it's kind of like a guess where you actually commit to the corner, and if you do that too early, then you have to open your steering and there's a lot of turning left to do and the corner just comes right back at you."
Defending race winner has had his share of issues. Despite qualifying second, he spun entering turn one out of turn 11 at the end of Saturday's Firestone Fast Six. He says the trouble areas aren't just the final three turns, but everywhere because of the multiple surface changes.
"I think it always used to be Turn 1, but once they resurfaced the approach there, it's been a little bit better," Dixon said. "I have seen a fair few cars go straight ahead in Turn 1. It seems like Turn 11 has been pretty tricky, especially the first session yesterday. We've seen some cars, especially in the races, too, that have had some — a couple have spun in (Turn) 10, as well, where I spun. (Turn) 8 is always tricky, as well. It's a lot of surface change there, and that tire wall sticks out quite far, so as soon as you get it wrong, it can catch you pretty good.
"So yeah, I'd say (Turns) 1 (and) 3 in the race with traffic, (Turn) 5, you hit that curb wrong, you can go straight ahead there. (Turns) 8, 9, 11, there's a lot of corners, and each lap you know you can slightly just get wrong and you'll be in the fence."
Meanwhile, polesitter Simon Pagenaud is pretty comfortable.
"I've got the advantage to be up front and sliding through Turn 1 clear of anyone, and I'm going to try to take advantage from that," he said.