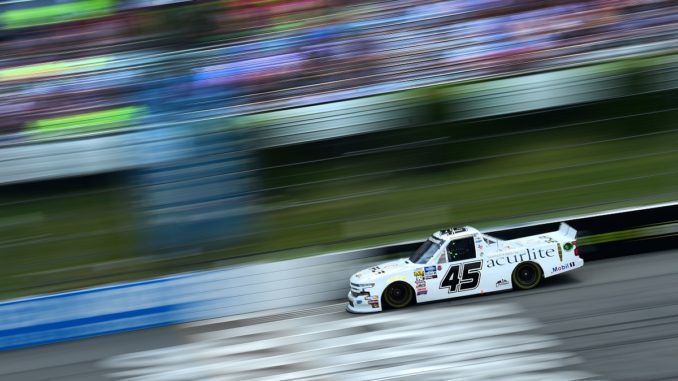 Ross Chastain scored his third win of the season in the NASCAR Gander Outdoor Series. He also has one victory in the NASCAR Xfinity Series giving him a total of five NASCAR national touring series wins in his career. That's more national series wins than former Xfinity champions Daniel Suarez and Alex Bowman both of whom currently drive for top-tier MENCS teams – Stewart-Haas Racing and Hendrick Motorsports respectively.
As I contemplate the amazing success Chastain has had this year, I think back to March of last year when OnPitRoad.com's Managing Editor, Tyson Lautenschlager, penned this article asking team owners from top-tier teams to give Chastain a chance. This was well before Chastain got his opportunity driving three races for Chip Ganassi in the Xfinity Series. Chastain was driving the No. 4 car full-time for Johnny Davis. Tyson must have a crystal ball!
He did get that opportunity with Ganassi, and he made the best of it. In his first outing in top-tier equipment, Chastain sat on the pole, led 90 laps, and almost won the race at Darlington. He followed that up two races later in his second opportunity qualifying fifth at Las Vegas and this time scoring his first career win.
His tremendous performance in the No. 42 car garnered him his first full-time ride with a top team as he was named the driver the No. 42 CGR car for 2019. Sadly, the deal fell apart when the sponsor, DC Solar, was raided by the FBI and the contract became null and void.
Though his dream opportunity slipped from his hands, Chastain remained positive and kept digging. He didn't let tremendous roadblocks life had thrown at him get him down. It just made him try that much harder. At the start of the 2019 season, Chastain was driving anything he could get in, many times for free. He competed in all three national touring series every week.
Driving for his NGOTS team, Niece Motorsports, Chastain was quietly performing very well. He opened the 2019 season with nine consecutive top-ten finishes including a win at Kansas in race No. 7. It was after this win when the team decided to declare its intention to compete for the NGOTS championship. Now the question was, can he score another win to secure his spot in the playoffs?
That question was answered just four races later when Chastain won at Gateway. Then, just to put punctuation on the achievement, he dominated the NGOTS event at Pocono this past weekend leading an impressive 54 laps out of 60.
Niece Motorsports isn't considered a mega-team. But, they are whipping up on the big teams almost every week.What they have been able to accomplish is impressive. In fact, Chastain's crew chief let it slip in a radio interview recently that (at that time, unsure of the current situation) he still wasn't taking a regular paycheck in order to help the team's funds.
In a time where many young drivers are finding themselves in top quality rides because they are bringing strong financial backing to the table, Chastain is doing the old fashioned way, the hard way…. driving hard and doing whatever it takes to prove himself.
Chastain has displayed amazing integrity, character, grit, and determination. He often refers to himself as just a "watermelon farmer from Florida".
But, he is also one heck of a racecar driver and NASCAR is lucky to have him competing in its top series.
**The opinions expressed on this site are not necessarily those of the publisher, management or staff. All comments other than website related problems need to be directed to the author. (c)OnPitRoad.com. **