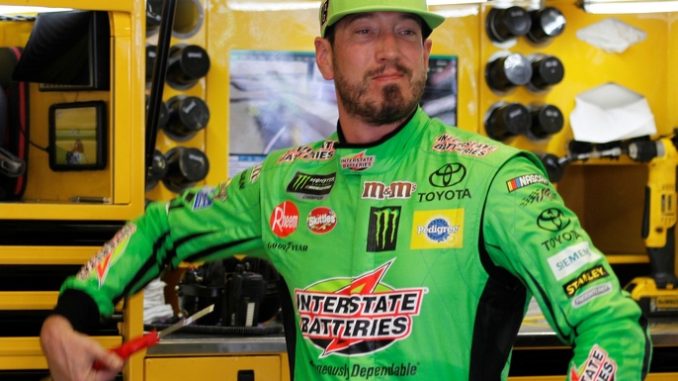 It is no secret that Kyle Busch is passionate about racing. Sometimes that passion may lead to anger and frustration. If Busch finishes in second place, he is often seemingly just as angry as if he finished last. There have even been times when he won the race and was still mad. However, many would argue his passion is the primary driver of his success. But, has his recent bout of anger and ruffling of feathers damaged his hopes of a second title this year? Let's examine.
First, no one can deny his success. Busch has scored 55 Monster Energy NASCAR Cup Series wins in 520 starts. That equates to a 10.6% winning percentage. Impressive numbers that, though he has yet to outperform them, at least put him in the same conversation with legendary drivers such as David Pearson (18.3%), Richard Petty (16.9%), Jimmie Johnson (13%), and Dale Earnhardt (11.2%). Busch is still winning races and could very well challenge one of these top performing drivers in terms of winning percentage in the near future.
One noticeable statistic stands out, however, the number of championships. Busch has one championship to his credit. The other drivers high on the winning percentage list have significantly more. Petty, Earnhardt, and Johnson each have seven titles each. Pearson has three championships to his credit with only 574 starts. It is also important to note that Pearson never completed a full season in his entire career. A truly amazing statistic when one thinks about it.
In the era of the playoff system, drivers must strategize differently to win a title. Though some try to say playoff era championships are not as impressive because of how the system operates, this is not a factual statement. If the system had been implemented back in the day, drivers would have strategized differently then, so you cannot simply compare the results and perform "what-if" calculations (But, that's a different story for a different time).
In today's NASCAR, one bad race in the playoffs could effectively end your chances at a title. If one does not transfer to the next round, there is zero chance of winning the title regardless of performance.
Therefore, in the playoff era, relationships with other drivers have become paramount and a driver's strategy must take this into consideration. All it takes is one driver you ticked weeks ago to take you out in the playoffs and erase your opportunity (see Matt Kenseth & Joey Logano).
Sunday at Watkins Glen, Busch ticked off several people including William Byron, Bubba Wallace, and perhaps more importantly, Byron's crew chief, Chad Knaus. (Who knows who else may be mad at him). It should also be noted that team owner, Rick Hendrick, also supported Knaus' call to go after Busch, thereby, likely giving him the green light for the future as well.
Byron or Wallace could easily end Busch's day early in one or two races of the first round of the playoffs or hold him up significantly on track to cost him positions and perhaps a shot at a win. Also, remember, Wallace will most likely not be in contention for the title, and therefore, will have much less to lose. This gives him much more freedom to take risks.
Knaus, who is credited for being one of the smartest crew chiefs on pit road, could do multiple things to cause Busch issues such as picking a strategic pit location and time Byron's pit stops to cost Busch time on pit road, or, as he did at Watkins Glen, demand his young driver retaliate.
What should be most worrisome to Busch is the fact that this volatile, temper-filled weekend is so close to start of the playoffs. It is likely to still be a somewhat sore subject for his new enemies at Las Vegas when the playoffs begin.
Busch definitely needs to play nice, make amends, and make relationships with his fellow competitors part of his strategy over the next few weeks in hopes of preventing as all out assault on his championship hopes. This is the type thinking required if he wants to be part of discussion regarding the championship elites.
**The opinions expressed on this site are not necessarily those of the publisher, management or staff. All comments other than website related problems need to be directed to the author. (c)OnPitRoad.com. **